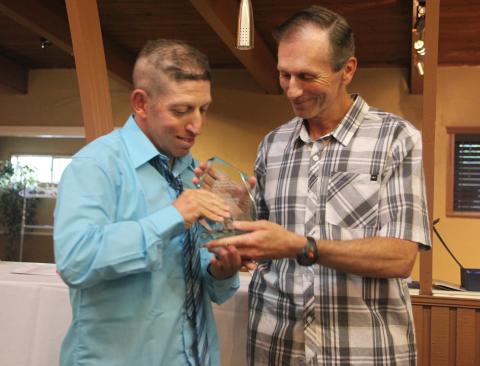 Special Olympics BC – Abbotsford athlete Mike Palitti has trained and competed hard to win medals on the track, and after an outstanding performance at the Special Olympics Canada 2014 Summer Games in Vancouver, Palitti earned a spot on Special Olympics Team Canada to compete in track and field at the 2015 Special Olympics World Summer Games. With a history of achievement in both summer and winter sports, Palitti is the deserving winner of SOBC's 2015 Athletic Achievement Award.
This all-around athlete has been involved with SOBC for 15 years, and while he shines in track and field, he also participates in basketball, curling, floor hockey, softball. He always has a kind word for his teammates and coaches and is a winner with his modest, hardworking, courteous nature. Off the track, Palitti has achieved great success in independent living.
Palitti has delivered remarkable performances in both summer and winter sports at the provincial and national level. On the ice, Palitti helped his curling team win gold at the 2011 Special Olympics BC Winter Sport Championships in Coquitlam and qualify for their first-ever National Winter Games.
On the track, Palitti went up against the best athletes in the country at the 2014 National Games and ran the races of his athletic career. He won gold in the 100-metre, gold in the 200-metre, silver in the 800-metre, silver in long jump, bronze in the 400-metre, and achieved personal bestsin each event.
"At Mike's insistence, even knowing he was going up against the best athletes in the country, he felt he had the stamina and skills to compete in all five of his previous qualifying events. As each day of competition rolled by Mike stepped up to the plate confidently and admirably running the races of his career," his nominators wrote.
"So much so that a bystander watching the start of the final of his gold-medal performance in men's 200m commented, 'Look at that guy go!' as Mike blasted out of the start. 'There's no one that will be able to catch him,' and indeed no one could as he ran away from the field in a personal-best time."
Palitti is also achieving personal goals outside of sport, as he runs his own car-detailing business with the drive and discipline he says he learned from his Special Olympics sport endeavors.
Palitti is a long-standing supporter of the BC Law Enforcement Torch Run for Special Olympics, every year running in the 10-kilometre Abbotsford Police Challenge Run and greeting police officers who have supported athletes through the Draft an Athlete program.For the past few years he has carried the Flame of Hope through Abbotsford with the LETR entourage during Torch Run Month, spreading the Special Olympics message of inclusion.
Our warmest congratulations to Palitti and all of the outstanding 2015 nominees for the Athletic Achievement Award:
Brogan Beliveau (SOBC – Grand Forks)
Nicky Chow (SOBC – Richmond)
Cory Duhaime (SOBC – Delta)
Michelle Forberg (SOBC – Campbell River)
Stuart Hawton (SOBC – Trail)
Jake Hooper (SOBC – Courtenay/Comox)
Sherri Lines (SOBC – Courtenay/Comox)
Todd Moore (SOBC – Abbotsford)
Alex Pang (SOBC – Vancouver)
Kellie Robertson (SOBC – Surrey)
Ashley Rosenberger (SOBC – Abbotsford)
Darien Tielemans (SOBC – Cowichan Valley)
Cullen Yee (SOBC – Richmond)