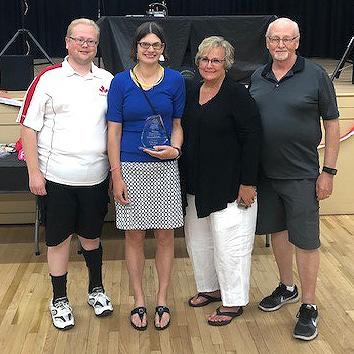 In her 21 years as a dedicated Special Olympics athlete, Kelowna's Kelsey Wyse has racked up an impressive list of achievements, earning three World Games appearances in two sports and many hard-won personal bests. Now she has added a new accolade as the 2019 winner of the Special Olympics BC Athletic Achievement Award!
This committed, composed, and thoughtful athlete has excelled in swimming, alpine skiing, cross country skiing, and softball. Through her dedicated training, Wyse has continuously improved in swimming, and achieved back-to-back spots on Team Canada in the sport in 2015 and 2019.
This spring, Wyse added to her long list of achievements when she captured three gold medals and a fourth-place result swimming in the 2019 Special Olympics World Summer Games. Wyse won gold in the 400-metre freestyle, 800m freestyle, and 50m freestyle in the competition's fastest division. She also swam the 1500m freestyle event for the first time, and achieved an impressive time while placing fourth racing against men 19 to 24 years old (Wyse is 34). 
Wyse puts in all the work needed to deliver on the world stage, swimming four to five times a week, working out in the gym three times a week, and adding Club Fit, cross country skiing, and softball practices. 
With all her hard work, she elevated her performance beyond her already impressive times and achievements from the 2015 World Summer Games in Los Angeles, where she won one gold and two silver medals. 
Wyse also has a Special Olympics World Winter Games appearance on her resume, as she competed in the 2009 World Games in Boise, Idaho, for alpine skiing and won two silver medals.
On the winter side, she is shifting gears to cross country skiing, and in her already outstanding 2018-19 season she added the achievements of competing at the 2019 Special Olympics BC Winter Games for cross country skiing and earning a spot on the Special Olympics Team BC 2020 Training Squad. 
"Kelsey is looked up to by many Special Olympics athletes," her nominators wrote. "At the recent swim meet in Kelowna, she was almost at superhero status with many people who attended. Some racing against her saw an opportunity to race with the best. Invited coaches, spectators, and volunteers were there to see this world-class athlete 'do her thing.'
"Her family has taught her about being humble and helpful to others. Kelsey is herself and is proud of her accomplishment but is always willing to help others. Kelsey can be seen leading warm ups at swimming practices, and would frequently offer her support to other swimmers when they needed help with some area of their swimming skill development."
Congratulations, Kelsey, and thank you for inspiring us!
SOBC sincerely congratulates all of the 2019 Athletic Achievement Award nominees:
Malcolm Borsoi, SOBC – Surrey 
Charlie Kain, SOBC – Grand Forks
Patrick Reid, SOBC – Victoria 
Bryce Schaufelberger, SOBC – Mission 
Ramon Siytangco, SOBC – Vancouver
Brock Terlesky, SOBC – Quesnel 
Genny Verge, SOBC – Sunshine Coast
Past Athletic Achievement Award recipients:
Bridget Colvin, SOBC – Burnaby (2009)
Marinka VanHage, SOBC – Prince George (2008)
Dave Devison, SOBC – Campbell River (2007)
Alan Swan, SOBC – Victoria (2006)
Jason Mills, SOBC – Campbell River (2005)