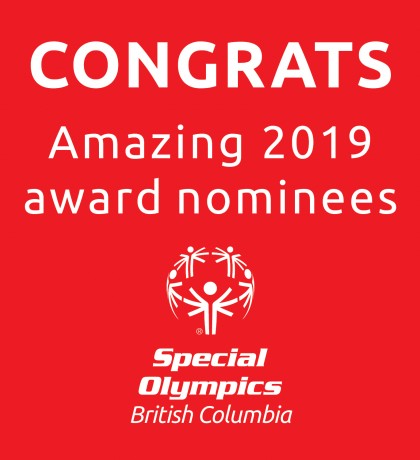 We are delighted to congratulate this year's nominees for Special Olympics BC's five annual awards! These accomplished and inspiring athletes, coaches, and volunteers have been nominated by their peers in recognition of their outstanding achievements, spirit, and contributions to Special Olympics.
Please join us in congratulating these deserving nominees!
The winners of the 2019 SOBC awards will be announced over the coming weeks on the SOBC website and social media accounts.
Athletic Achievement Award
The Athletic Achievement Award is presented annually to a male or female athlete who has demonstrated outstanding athletic skill both in practice and competition. This athlete works hard to develop their abilities and to excel in their sport(s). In addition to athletic ability, this athlete must act as a role model for other Special Olympics athletes.
Malcolm Borsoi, SOBC – Surrey 
"Aside from medals and personal bests and the amazing results he has had on the track, Malcolm's biggest achievement is his ability to connect with people. He has accepted his challenges head on and given the very best of himself, both on and off the field of play. He has mentored other athletes on many of the teams he has been on, and accepted constructive criticism when we all knew he had even more to give to ensure he was giving the best of himself at all times."
Charlie Kain, SOBC – Grand Forks
"Charlie prepares and competes hard at floor hockey where he has played three times for Team BC. He also recognizes the importance of coupling his sports endeavours with a high commitment to our weekly Club Fit program. Charlie is a high-scoring, game-changing forward on our floor hockey team and also leads the team in physical fitness."
Patrick Reid, SOBC – Victoria 
"In just the past several months of 2019, Patrick achieved two amazing goals:  He passed on the opportunity to compete with the floor hockey team at the 2019 SOBC Winter Games, choosing to focus his attention on his curling team that went to Provincials. This decision apparently was the right one, as he helped the team win the gold medal, and qualified for the Team BC 2020 Training Squad for the 2020 National Games in Thunder Bay, Ontario! Following [Provincial Games], Patrick went to the 2019 World Summer Games in Abu Dhabi, managing two fifth-place finishes that were soon topped when he was one half of the two-man bowling team that won a gold medal for Canada! At the Games, Patrick had a best score of 223 but for the gold medal, he bowled to a score of 213 to secure the gold."
Bryce Schaufelberger, SOBC – Mission 
"Bryce has played in three World Games, four National Games, and many Provincials. He is a great leader, and he is very helpful setting up equipment. He is very good and patient with younger players; he teaches them about the sport and how important sportsmanship is in the game. He also makes sure that everyone plays as a team. He says there is no I in team. He has dedication. He is always at practice and always plays his best every game."
Ramon Siytangco, SOBC – Vancouver 
"For the first time, Ramon became a member of Team BC in 2018 after he performed tremendously at the 2017 SOBC Summer Games in Kamloops. He swam in five events and medaled in all five. Ramon continued his performance [at the 2018 Special Olympics Canada Summer Games] in Antigonish, and came home with four medals in the same events, including the 25 back where he swam the fastest time in the country. Within this cycle, Ramon's times improved from competition to competition, setting personal bests each time. Between the Regional Qualifier and Antigonish, Ramon's times improved by 10 to 20 per cent."
Brock Terlesky, SOBC – Quesnel 
"Brock takes self-improvement seriously. He sets high standards for himself as an athlete and a leader. On the field, the court, or the rink, he is a role model in his approach to competition. He is a focused, driven competitor who seeks to lift up the play of his teammates by actively engaging with them, encouraging them, advising them, and inspiring them."
Genny Verge, SOBC – Sunshine Coast
"Genny was part of Team BC 2018 and won medals in every event at the Special Olympics Canada Games in Antigonish, Nova Scotia. … Going to the World Games was her dream! [At the 2019 Special Olympics World Summer Games] she won GOLD in 25-metre butterfly, GOLD in 50m freestyle, and GOLD in the 4x50m relay."
Kelsey Wyse, SOBC – Kelowna 
"Kelsey has continuously improved in her sport of swimming. She has demonstrated an increase in skill, winning three gold medals at the recent 2019 World Games, improving her medal count from the 2015 World Games in Los Angeles. She also added to her portfolio by swimming for the first time the 1500-metre race in the 2019 World Games. Kelsey is continuing to expand her sights towards the upcoming National Winter Games in 2020 [as she has earned a spot on the Team BC 2020 Training Squad]. There is no doubt that she can accomplish much more."
Grassroots Coach Award
The Grassroots Coach Award is presented to a coach who works tirelessly to ensure that all athletes, regardless of their ability level, are provided with opportunities to train, improve and compete. This coach emphasizes fair play and good sportsmanship and ensures that all athletes feel included and valued. This coach recognizes the unique gifts of each athlete and has the ability to form an exceptional bond with the athletes who require a unique approach from their coach.
Dave Bodie, SOBC – Victoria 
"Dave never hesitates to go above and beyond to support athletes in their goals, all the while keeping the athletes' best interests at heart. Dave's leadership shows in his deep caring and attention on and off the ice, organizing and leading a strong, thriving curling program, creating and maintaining excellent relations with his generic curling peers, training and developing sport specific skills of all athletes, and always encouraging his athletes (and parents/caregivers) to take the next step and challenge themselves. Dave has touched the lives of so many different athletes across his many years with our organization."
Stuart Coates, SOBC – Mission
"Stuart is very honest, sincere, and well informed. He provides timely information about coming events, offers good solutions to problems, and maintains firm and fair control of the team."
Penny Coyle, SOBC – Kimberley/Cranbrook
"Penny is always encouraging to the athletes, pushing them to better themselves in a kind and positive way. She instills in her athletes the importance of being responsible for themselves and their actions, not only at practice and competition, but also in how they conduct themselves in the community and while travelling. … Penny has high expectations of her athletes and volunteers, which she conveys in a calm and gentle manner."
Deb Eldridge, SOBC – Surrey
"[A swimmer] grew from a frightened non-swimmer into a real athlete, focused and dedicated. Deb helped her gain confidence both in and out of the water. Deb is a force behind a great team of dedicated volunteers who have made Special Olympics swimming welcoming to and inclusive of athletes of ALL ability levels. Swimming in Surrey is truly a place where everyone gets to shine."
Monique Goward, SOBC – Williams Lake
"Monique has been open and honest with the athletes about everyone's roles and expectations; this includes athletes, parents, care providers, and the volunteers that help her and her Assistant Coach Deanna. Monique has dedicated herself to learn all she can about functional dynamics that work for individual athletes and puts it together in a clear understandable practice format."
Stuart Holmes, SOBC – Delta 
"Stuart has a very positive manner and is fabulous listener, which is encouraging for the athletes. He always considers their overall wellbeing, not just their progress in the sport. Stuart is a friend/mentor to them as well as a coach. He assesses each athlete's skills and sets goals for each one. Athletes respond to him as a true leader."
Koltyn Lamonday, SOBC – Revelstoke 
"We have an athlete whose family was unsure about him joining Special Olympics due to behaviours and defiance. He did not like the idea of wearing hockey gear and he does not like to exercise, so running for floor hockey was going to be a challenge. Koltyn has done an amazing job at making floor hockey practice into a fun game or activity where this athlete has really bought in, had fun, and now wants to join other sports that Koltyn is involved with. Seeing the progress from the first practice to the end of the season in February was truly remarkable."
Aaron Leontowich, SOBC – Kamloops 
"Aaron continually works on the development of self-esteem with his athletes by encouraging each of them to take a leadership role at practice. He rotates the responsibility for the warm up among the athletes, giving each of them an opportunity to be a leader of their peers. He also takes the time to problem solve any disagreements between athletes. This is done in a cooperative manner. He also has an athlete take attendance at every practice. Aaron's belief that Special Olympics develops athletes into leaders is very much in evidence at his practices.'"
Shayla McLean, SOBC – Kelowna
"Shayla is a joyous coach, while also balancing a drive to challenge our athletes to strive to new heights. Shayla is [an Assistant Coach at swimming and] concurrently the Head Coach for our Club Fit advanced and beginner programs. She is responsible for creating engaging and motivating exercises for each practice. Our Club Fit program brings in athletes of all athletic abilities, and she does an amazing job at tailoring all workouts to match each athlete's abilities and goals."
Katherine Taberner, SOBC – Port Alberni
"Katherine has been very encouraging and inclusive to those swimmers who were apprehensive about competing in meets, encouraging them to attend as a spectator which led to those athletes wanting to take part in the competition. … She treats all people with respect and is very calm in all situations even if there is a need for discipline. She honestly cares!  One of her fellow coaches commented that Katherine is her role model as with her positive attitude she has enriched so many of our lives."
Howard Carter Award
Howard Carter was an upstanding member of the automobile business community and a great friend of Special Olympics BC. Mr. Carter recognized the value of coaches and as such this award is presented in his memory. The winner of the Howard Carter Award is a coach who provides exceptional training to the athletes and ensures that they are prepared to beat their personal bests and deliver high-calibre performances at competitions. This coach is a creative problem solver and always is developing new ways to improve strength and conditioning of the athletes.
Angela Behn, SOBC – Nanaimo 
"With her 30+ years of extensive experience in sport, education, and Special Olympics as a coach, Angela is confident in asset building, creating strong teams of athletes and coaches alike for SOBC. Her coaching experience extends to the international level where several of her local athletes have been successful in advancing to and competing at the National and World Games levels in athletics. Angela has seen much growth in the Special Olympics movement over the past 30 years, and she has made her programs forward-thinking and sought out ways to increase not only athletes' knowledge base but coaches' knowledge base to help benefit and enrich athletes' lives through sport and beyond."
Shannon Dempster, SOBC – Victoria 
"This past year, Shannon has been a huge factor to the support, training, and success of our athletes. Not only did she have a team of athletes qualify for the 2019 Special Olympics BC Winter Games for 5-pin bowling, but she also had an athlete that was training and competing at the 2019 World Summer Games in Abu Dhabi. Shannon's passion for her athletes and her desire for them to achieve their goals is unmatched. Shannon went above and beyond what may have been expected of a volunteer, giving near-limitless time outside of the standard bowling schedules to both sets of qualifying athletes to ensure that each athlete was adhering to their commitments within their contracts, training at extra sessions, and seeking out additional training tools and camps."
Cheryl Friesen, SOBC – Vernon
"Cheryl is dedicated to athlete success; she recognizes their different ability levels and is able to break down complex movements into smaller parts to assist fellow coaches to help the athletes acquire basic skills for success in their sport. Cheryl is continually meeting with new coaches to assist with this along with any additional sport specific help they need. … Cheryl goes above and beyond for the athletes to help them achieve their dreams."
Jennifer Fyfe, SOBC – Vancouver
"Jen has completely transformed our rhythmic gymnastics program where competition, health, and development/self-improvement are top priority. Jen has encouraged athletes to always aim for personal bests while having fun doing it. Jen assigns homework to athletes to practice their routines outside program hours. She stresses the importance of practice. Moreover, Jen emphasizes nutrition and portion-control to all athletes."
Misty Pagliaro, SOBC – Kimberley/Cranbrook  
"Misty has a strong understanding of the importance of teaching progressions to the athletes in order to help them grow to be their best self in any sport she coaches. She is encouraging and supportive and loves to see the athletes succeed while enjoying themselves. She is always willing to travel with athletes to training events and even to organize them within our Region; her willingness to jump in and help athletes helps them to recognize their value and importance."
President's Award
This non-coaching volunteer is dedicated to planning, organizing, and operating sport programs, fundraisers and/or competitions. This volunteer is an asset to the Local's Executive or sub-committee and is always willing to take on a leadership role to ensure that the athletes and volunteers have the best experience possible. This volunteer donates countless hours and always has the best interest of Special Olympics BC in the forefront.
Kendal Alston, SOBC – Victoria
"Kendal constantly strives to find new and creative ways to expand opportunities for our athletes and volunteers. These opportunities range from different health and wellness initiatives, athlete and volunteer leadership, and exposure to the community. She makes supporting everyone, athletes and volunteers alike, a priority.  Without her calm demeanor that perseveres through all pressure, our Local would not function fearlessly the way we do presently. Her strong leadership skills have allowed for other members of the Local to find their path and excel in their positions."
Merv Anderson, SOBC – Salt Spring Island 
"Merv is a constant source of inspiration and encouragement for athletes, coaches, and other volunteers. He radiates positivity and is a servant leader who seeks participation and consensus on local decision-making. Merv works harder on Special Olympics than anyone else on Salt Spring Island and yet is always the first to acknowledge and commend the contributions of others. … Merv is equally supportive of, and loved by, our athletes. He goes out of his way to enhance their Special Olympics experience and opportunities."
Barbara Coates, SOBC – Mission 
"Barb sits on the Local Committee and has done this for 30 years. She has been a Local Coordinator, and is still our Treasurer. Barb has helped me to be the best I can be as a Local Coordinator; if I have any problems I talk to her and we can come up with a solution together. I have learned so much from Barb. She is still coaching bowling and comes every Monday night to help out and keep scores. She supports the athletes by going to games and organizing tournaments that we put on. She knows all our athletes. Barb is well liked by all."
Marc Fisher and Connelle Styles, SOBC – Ridge Meadows
"Connelle and Marc have both helped the Ridge Meadows Local grow to an average of 90 to 100 athletes per year. Connelle and Marc have promoted coaches training so all of our coaches are qualified and meet all standards required by Special Olympics BC. They have helped increase the number of programs in Ridge Meadows and made it a fun environment for athletes to participate in. Connelle and Marc have also promoted athletes to attend Athlete Leadership training whenever offered."
Ted Hope, volunteer GMS and results expert
"Since 2002, Ted has supported numerous Special Olympics athletics and swimming meets, approximately 70 in total including many Provincial Games and Regional Qualifiers as well as the 2014 Special Olympics Canada Games. … Ted is very patient and accommodating, very thorough and detail-oriented, always thinking of how his service behind the scenes is to serve the athletes in having a great experience and in supporting their own athletic development."
Sally Masters, SOBC – Kimberley/Cranbrook
"As the Fundraising Coordinator, Sally is responsible for ensuring that all appropriate local grants are applied to; she is continually reaching out to the community to ensure past supporters continue to donate to our programs as well as searching for new businesses to support/donate.  She excels in her communication skills and her ability to reach out to community members."
Dale Redford, SOBC – Grand Forks 
"Under Dale's supervision, our local fundraising effort of collecting and returning bottles has resulted in anything less than $500 raised a month considered a 'slow month.' Dale has worked with athletes to determine what areas of the bottle collection they are best at so that each athlete contributes to the best of their ability. You should see the team in action – they are a well-oiled machine and they even have fun while they are doing it! Dale's constant optimism and positive energy is infectious."
Dianne Zamborsky, SOBC – Vancouver 
"She's been a leader and a model volunteer, not only for her tenure length, but also for her tenure quality. She not only organizes the annual registration day activities for our Local, but also provides her time to manage other local activities, including the Annual Meeting in June and Christmas party in December. Dianne still has passion for our athletes and even with her other community service commitments, she always makes time for our Local. We have been lucky to have her on our team!"
Spirit of Sport Award
This award is presented annually to an athlete who exemplifies the true meaning of sportsmanship. The Athlete's Oath states, 'Let me win. But if I cannot win, let me be brave in the attempt.' This athlete lives by our Athlete's Oath and is an inspiration to fellow athletes and coaches. This athlete shows dedication and enthusiasm, and always gives their best effort.
James Bergen, SOBC – Kelowna 
"He put an incredible effort into his training [for the 2018 Special Olympics Canada Summer Games] and was very committed to doing his very best. James is a friendly person, always kind and engaging. He has demonstrated his sportsmanship by being helpful while in the pool and out in the community. He has been seen assisting athletes at the swim meet during marshalling or as they were moving into their lanes. With James you can ask him to help with almost anything and he is always willing to help if he can. James is also a long standing athlete who actively participates in motionball every year. He is much loved by his teammates, offers to provide interviews for local media, and never sits down during the sporting events. He is a true sportsman."
Dan Catarig, SOBC – Mission 
"Dan gets along well with all the athletes and helps them out when he can. He is so willing to help out on our Local Committee and gets along well with all. He is a team leader. When asked if he wants to help fundraise, he is always there and encourages other athletes to also help when needed. He includes all our athletes, and even though he is not in [every] sport he makes an effort to visit the sports he is not involved with and lets the athletes know who he is and tells them if they have a problem to come to him and let him know so he can talk to the Local Committee about the problem and go back to the athlete."
Carmel Hashemi-Dahaj, SOBC – Surrey 
"Carmel is a multi-sport athlete who sets personal goals and pushes herself to become more skilled every year. When she started soccer, she was almost afraid to chase after the ball but she has developed so much that last year she started scoring goals in tournaments. In basketball she was initially very hesitant to handle the basketball, but now she is one of the leading scorers on her team. Carmel also trains outside of Special Olympics programs. She is a team player who sets a great example to the other athletes that by working hard you can get better and better."
Richard Morgan, SOBC – Port Alberni
"Richard is a pleasure to know both as an athlete and person; he is a true gentleman. Richard always has a positive attitude towards his coaches, his family, and teammates. Richard tells jokes on bus rides and encourages others, even the shy ones, to share their jokes as well. In response to the others he always has positive praise. He is very happy with his own achievements too; he learned to dive this season and is super proud of himself. Just an all-around amazing athlete!"
Tanya Norman, SOBC – Powell River
"Tanya saw the need for athletes to develop fitness for their sports, not just at practices but in-between and all year long. She worked with the management at Avid Sports to develop a fitness club for Special Olympics athletes at a reasonable cost. Club Fit is now going strong in Powell River and it is all because of Tanya. Athletes love to attend. They are coached in fitness routines by professional fitness trainers. It is fun, they love being part of the group, they are developing friendships - and this helps them to maintain fitness on an ongoing basis."
Kendall Salanski, SOBC – Kimberley/Cranbrook
"Kendall can always be found working her hardest at every practice she attends. Not only can you witness her giving her all for her own benefit, but you can also find her encouraging others to do their best or lending a hand to help explain a game or skill to her teammates. Last year Kendall could be found putting in extra work to prepare for National Games as part of the swim team. She went to the gym every Monday for an extra Club Fit session with Coach Misty, and swam two extra days a week with Assistant Coach Ivy-Lynne focusing on specific skill-building exercises."
Mathew Schmiing, SOBC – Vancouver 
"Mathew exemplifies sportsmanship and dedication to Special Olympics BC. He is the model athlete in the Vancouver Local. Mathew is a high-performing athlete in four sports, the Athlete Representative, a local ambassador, and very often a provincial representative. … Mathew has extremely close and positive relationships with fellow athletes. At times, he is a peer and friend and at other times he is a mentor or a coach. He is extremely adaptable based on the situation. Mathew is well known in the Local, and has healthy relationships with fellow athletes inside and outside of sport, many of which he will be friends with for life."
Terina Sessa, SOBC – Revelstoke 
"Terina is always being supportive of others and encourages other athletes to attend events/sports programs. She has attended many fundraising events and even spoke on behalf of the SOBC – Revelstoke athletes at a grant fundraiser. Last year, our swimmers attended their first swim meet in Golden and Terina was only scheduled for one race. At the last minute, they were short swimmers for a race that was out of Terina's comfort zone and without hesitation, she offered to participate and try something new."
Pauline Shaw, SOBC – Victoria 
"At our Provincial Winter Games this year, Pauline made a point to watch and cheer on every skater from the boards. She wanted to make sure that every athlete had her support (even the ones she was competing against). After each skater finished their event(s), Pauline would walk up to them and congratulate them on a great skate and tailor a specific comment to each athlete. Despite her inability to feel the right side of her body, she is consistently brave in the face of adversity and attempts each skate like the gold medal should be hers. Although, she truly feels that she skates because she loves it and it is her happy place and 'home.'"