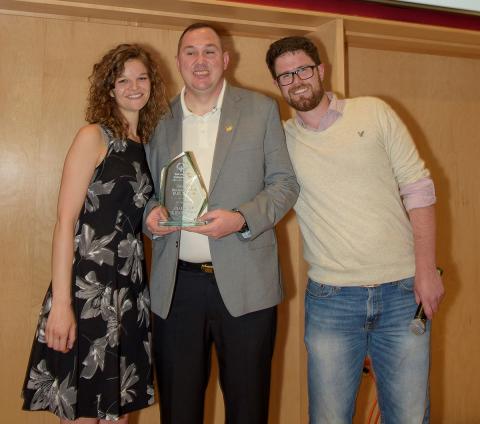 Special Olympics BC – Victoria's Michael Langridge is an accomplished athlete who is dedicated to elevating his performance and achieving new personal bests. A great teammate and an inspiring leader, Langridge is the winner of SOBC's 2018 Athletic Achievement Award.
A versatile athlete, Langridge participates in alpine skiing, bocce, Club Fit, floor hockey, and soccer. Langridge takes part in alpine skiing through SOBC – Nanaimo, attending training sessions at Mount Washington Alpine Resort, which is about a three-hour drive from Victoria. A talented alpine skier, Langridge's commitment to the sport has led to some spectacular results, including winning two gold medals at the 2017 Special Olympics World Winter Games in Austria.
In all of his sports, Langridge works hard at practices so he can further develop his skills. He appreciates the direction he receives from his coaches and is often called upon to demonstrate drills and exercises in training sessions.
"Michael is never shy about asking for feedback or clarification for a drill, showing that he wants to comprehend what is being asked of him as best as he can," his nominators wrote.
In bocce and floor hockey, Langridge serves as a mentor for other athletes, helping them build their skills and learn the sports' rules. An asset to any team he is on, Langridge impressed his coaches with his strong play and leadership skills at this year's Floor Hockey Regional Qualifier for Region 6 in Courtenay.
Congratulations, Michael, on your amazing accomplishments and thank you for being an inspiring role model!  
Special Olympics BC sincerely congratulates all of the other nominees for the 2018 Athletic Achievement Award:
Becki Allen, SOBC – Delta
Linda Careless, SOBC – Comox Valley
Sheryl Jakubowski, SOBC – Fort St. John
Nicholas LeBlanc, SOBC – Surrey
Dennis Lynch, SOBC – Nanaimo
Glenda Melnychuk, SOBC – Quesnel
Past Athletic Achievement Award Recipients:
Bridget Colvin, SOBC – Burnaby (2009)
Marinka VanHage, SOBC – Prince George (2008)
Dave Devison, SOBC – Campbell River (2007)
Alan Swan, SOBC – Victoria (2006)
Jason Mills, SOBC – Campbell River (2005)