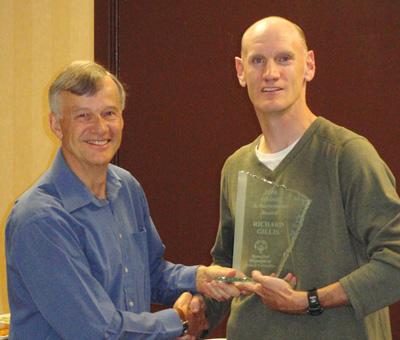 The 2010 Athletic Achievement Award was presented to Richard Gillis of Kelowna. An 18-year participant with Special Olympics, Richard is a consistent competitor at high-performance levels, and a positive leader who demonstrates diligent, determined commitment to his training and nutrition. His excellence also won him Special Olympics Canada's 2010 Male Athlete of the Year award.
Richard has qualified twice for berths on Special Olympics Team Canada squads, including a bronze-medal-winning performance in 2007, and he has earned four spots on Team BC squads. Richard has made four trips to BC Games – two Winter Games and two Summer Games – and two trips to Canada Cup competitions.
Along with his athletic excellence, Richard is known for his positive nature, his willingness to help others, his leadership by example and his encouragement. Richard has also become known as a top athlete in his sports, especially track and field, floor hockey and softball. He specializes in the multi-disciplinary pentathlon, and won a silver medal in the event at the 2010 National Games. He has also participated in cross-country skiing, swimming and 10-pin bowling.