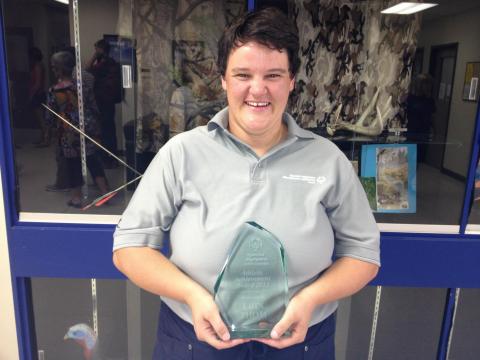 In her 22 years as a Special Olympics athlete, Erin Thom of SOBC – Kimberley/Cranbrook has marked many fine accomplishments, and 2012-13 was truly a banner season.
Demonstrating her exceptional multi-sport talents, in addition to racing to two Special Olympics World Winter Games silver medals and a fourth-place finish in the alpine skiing events on the slopes in the Republic of Korea, Erin was also selected to be part of the B.C. team in the inaugural National Golf Tournament in Ontario, and she took to the ball diamonds in Langley to compete in the 2013 Special Olympics BC Summer Games. A busy season chock full of accomplishments, to be sure, and Erin did it all with her customary cheer, dignity, and high level of commitment.
While a talented and dedicated athlete with so many achievements to her achievements to her name, Erin is also a gracious person who was surprised to receive the 2013 SOBC Athletic Achievement Award at SOBC – Kimberley/Cranbrook's registration day for the 2013-14 season. "Erin was surprised to see that every coach that she has had since joining SOBC 22 years ago (except for three) was at the Registration Day – she was even more surprised when she received the SOBC Athletic Achievement Award!" reported her mother Joanne, SOBC – Kimberley/Cranbrook Local Coordinator.
Throughout her two decades as an SOBC athlete, Erin has raced with determination in alpine skiing in four Special Olympics World Winter Games and National Winter Games, and has medalled in every Games in which she has competed. She captured her first World Games gold medal in 1997, one of her most memorable Special Olympics experiences. But skiing wasn't the sport that launched her Special Olympics career – Erin got her start in soccer, then went on to take up skiing, 5-pin bowling, softball, swimming, and golf. Currently, Erin also participates in Club Fit, one of many marks of her commitment to training well and being at her best for her sports.
Erin worked hard in advance of the 2013 Special Olympics World Winter Games, and her strong results are a testament to her dedication and abilities. The 2013 World Games also demonstrated how Erin is a role model for other athletes as she leads by her dedicated example. As a veteran athlete on Special Olympics Team Canada, Erin led her teammates in listening to coaches and reliably doing everything that needed to be done, as well as raising issues in quietly diplomatic ways with the appropriate team leaders. Her experience showed along with her diligence.
Erin's performance in Special Olympics Canada's inaugural National Golf Tournament in the fall of 2012 attracted attention, as she won bronze in her division and won acclaim for her amazing driving ability. "Erin can really crush a ball off the tee. She probably outdrove half the guys," SOBC's Shawn Fevens said. And when she hit the softball fields for the 2013 SOBC Summer Games, she earned another bronze medal in helping the Kimberley/Cranbrook team to a fine Provincial Games performance.
Cheerful, competitive, committed, friendly, and relaxed are the words chosen to best describe Erin, summarizing well this athlete who combines both competitive ability with a warm and happy nature. Erin and her roommate thrive as they live independently, and she is known for volunteering at every single local Special Olympics event. Erin's outstanding abilities and dedication are also recognized by her community, and in 2010 she was selected as Cranbrook's representative to run the final leg of the Olympic Torch Relay into the city's Western Financial Place RecPlex to light the cauldron.
Congratulations to Erin!
Special Olympics BC congratulates all of the 2013 nominees for the Athletic Achievement Award:
J.L. Hollywood (SOBC – Campbell River)
Shelly Poland (SOBC – Golden)