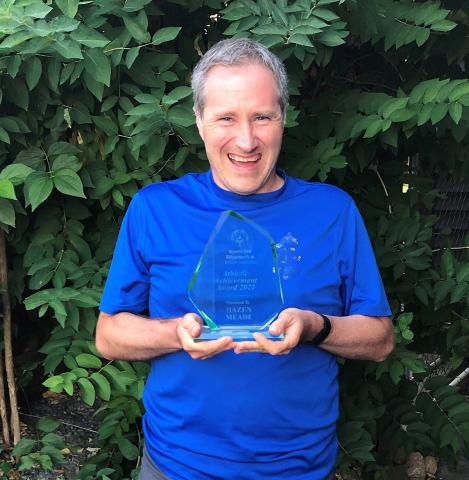 Special Olympics BC – Campbell River's Hazen Meade has shown he is a resilient and determined athlete with an impressive list of sport achievements to show for his hard work. Known for his speed on the athletics and snowshoeing tracks, "Blazin" Hazen Meade is the deserving recipient of SOBC's 2021 Athletic Achievement Award.
Meade has been an active athlete for 25 years, participating in athletics, Club Fit, snowshoeing, softball, and swimming. In his time with Special Olympics, he has earned 16 Special Olympics Canada Games medals and two Special Olympics World Games medals. 
Despite working at the same part-time job for the past 20 years, during eight of which he was named employee of the year, Meade continues to find time to train and improve his athletic skills. 
In 2004 Meade lost 75 pounds to achieve his goal weight, and since then has never looked back. Meade headed into the 2018 Special Olympics National Games in Antigonish with a 1600 m time of nine minutes and 38 seconds but finished with a time of seven minutes and 44 seconds. He is in constant pursuit of improvement, and it shows. 
During the pandemic, Meade continued to work his hardest on his physical fitness. He's been helping a teammate with their training for the Special Olympics Team Canada 2022 Training Squad, he has worked hard to average more than 20,000 steps a day, and he showed great dedication in the Special Olympics BC Provincial Challenge Games.
His coach Maureen Hunter says, "During the 25 years I have coached and trained with Hazen, I have never known him not to do his personal best at every practice and competition. He has a very deep drive to compete and do his best no matter what the odds are."
Meade runs for the love of running, finding his own motivation to consistently put in the work. He remains humble in his successes and is always grateful for the opportunity to compete.
Meade also earned the Athletic Achievement Award in 2012.
Congratulations to Hazen, and to all the deserving 2021 nominees! Watch Hazen's interview with legendary broadcaster Bernie Pascall in the Athletic Achievement Award segment from the 2021 SOBC Awards Ceremony:
Past Athletic Achievement Award winners:
Bridget Colvin, SOBC – Burnaby (2009)
Marinka VanHage, SOBC – Prince George (2008)
Dave Devison, SOBC – Campbell River (2007)
Alan Swan, SOBC – Victoria (2006)
Jason Mills, SOBC – Campbell River (2005)