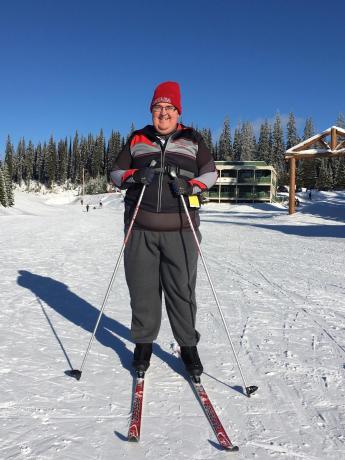 Known for his unrelenting positivity, his commitment to training, and his ability to inspire and elevate those around him, Special Olympics BC – Kelowna athlete Roy Stephens is the deserving recipient of SOBC's 2020 Spirit of Sport Award!
Stephens is a talented multi-sport athlete who has been participating in Special Olympics programs for more than 15 years. While he has seen significant progression in that time, two years ago he decided to take it to the next level. Stephens chose to pursue dryland training in addition to his workouts in Club Fit and cross country skiing.
Hiking his way around Kelowna, he started at a beginner level and quickly progressed to faster times on longer routes with more elevation. Constantly looking to improve, Stephens took it upon himself to put in additional work, a true testament to his motivation and work ethic. Equipped with his improved fitness, he wound up achieving a spot on Special Olympics Team BC 2020 for cross country skiing, and reached the podium at the 2020 National Games.
As if that weren't enough, Stephens has used his prolific social media presence to share his daily adventures in staying active during the SOBC program pause. His posts include his walking and hiking routes, screenshots of friends and family that join him via video call, and photos of the beautiful scenery and wildlife he discovers along the way. These posts are an inspiration to people all across the province, and have resulted in many others following his lead to stay active and healthy.
His nominators wrote, "Within our Special Olympics community, Roy has demonstrated himself to be a warm, caring, and generous individual. He loves to celebrate his teammates' achievements while also being there to support them when they bounce back from defeat. He is a leader for others through his enthusiasm for sport. Roy also has quite the humorous side, and is always ready to bring a smile to someone's face with a joke."
As an athlete, Stephens has actively worked with his coaches to help design his own improvement strategies. He communicates openly and honestly about how he is doing and what he needs from his coaches in order to succeed. True to his nature, once he discovers a technique or tip that may give him a competitive advantage, his first thought is to share this information with his fellow athletes. Stephens is an asset in any community, and his positivity and genuine desire to see others succeed make him both an incredible athlete and individual.
Congratulations, Roy, and thank you for being such an inspiring and uplifting person!
2020 SOBC Spirit of Sport Award virtual ceremony:
SOBC salutes this year's deserving Spirit of Sport Award nominees:
Anne Gibson, SOBC – Surrey
Chantal Chan, SOBC – Vancouver
Jake Miller, SOBC – Trail
Justin Chippendale, SOBC – Vernon
Kendall Salanski, SOBC – Kimberley/Cranbrook
Matthew Hender, SOBC – Quesnel
Terina Sessa, SOBC – Revelstoke
Past Spirit of Sport Award recipients:
Pauline Shaw, SOBC – Victoria (2019)
Matthew Lai, SOBC – Richmond (2018)
Kelsey Thomson, SOBC – Richmond (2017)
Simone Myers, SOBC – Port Alberni (2016)
Ryan Stewart, SOBC – Richmond (2015)
Barbie Conway, SOBC – Prince George (2014)
Danny Tress, SOBC – Burns Lake (2013)
Billy Peterson, SOBC – North Shore (2012)
Ron Greenhorn, SOBC – Nanaimo (2011)
Dallas Stager, SOBC – Vancouver (2010)
Walter and Danny Dion, SOBC – Campbell River (2009)
Tanya McIntosh, SOBC – Kelowna (2008)
Katarina Gerhardt, SOBC – Kelowna (2007)
Jan Mareels, SOBC – Vancouver (2006)
Keith McPhail, SOBC – Victoria (2005)
Janet Robertson, SOBC – Powell River (2004)
Paul Aubuchon, SOBC – Campbell River (2003)
Sherry Rempel, SOBC – Prince George (2002)
Rob Misjak, SOBC – North Shore (2002)
Krista Meldrum, SOBC – Campbell River (2001)
Scott Ellison, SOBC – Richmond (2001)
Marie Putnam, SOBC – Vancouver (2000)
Cal Brandolini, SOBC – North Shore (2000)
Carrie Poulin, SOBC – Nelson (1999)
Mathew Brewer, SOBC – Prince George (1999)
Jane Murray, SOBC – Coquitlam (1998)
Marc Theriault, SOBC – Surrey (1998)
Graeme MacKinnon, SOBC – Burnaby (1997)
Barb Scrutton, SOBC – Coquitlam (1996)
Barry Creasy, SOBC – Kimberley/Cranbrook (1996)