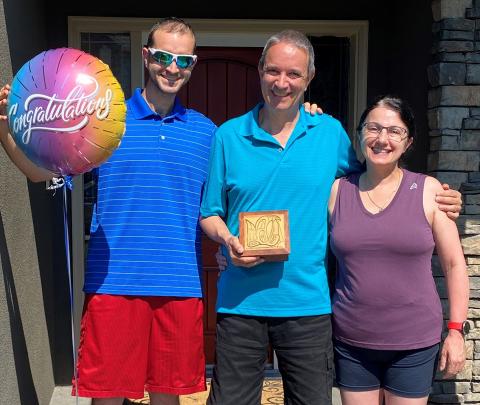 In his 18 years with Special Olympics BC, David Wilkinson has coached and empowered athletes to succeed at every level, from grassroots competitions to World Games. Wilkinson is the deserving recipient of SOBC's 2021 Howard Carter Award for coaching excellence! 
Wilkinson is currently SOBC – Kelowna's Head Coach of bocce and snowshoeing, and he is an assistant snowshoeing coach on the Special Olympics Team Canada 2022 Training Squad.
With his strong technical coaching and attention to detail, Wilkinson has coached both snowshoeing and bocce athletes to succeed in multiple Provincial, National, and World Games. 
With his emphasis on technique, Wilkinson provides athletes with a strong foundation of understanding that allows them to excel in their sports. 
His success as a coach stems from his ability to provide custom directions to athletes in a way that makes sense to each individual. His "let's get it done" attitude is contagious, and his efficiency and reliable nature ensure that athletes get the most out of their practices. 
Over the last year, he has gone above and beyond to help Special Olympics BC provincially and locally to safely bring back in-person programs.
His nominators wrote, "David is one of the most reliable and organized coaches. He comes to every meeting and makes sure his team of coaches are attending webinars. He is very kind and very confident in his abilities and other's abilities. His dedication to constant learning is an asset to the organization." 
Wilkinson's dedication to health and fitness in his own life means that he is truly leading by example. He keeps athletes motivated with training goals and is happy to share nutrition tips too. 
Congratulations to David, and to all the deserving 2021 nominees! Watch David's conversation with legendary broadcaster Bernie Pascall in the Howard Carter Award segment from the 2021 SOBC Awards Ceremony:
Past Howard Carter Award recipients:
Nanci Martin, SOBC – Vancouver (2009)
Jackie Ross, SOBC – Prince George (2008)
Aleila Miller, SOBC – Smithers (2007)
Heather Hamilton-Wright, SOBC – Vancouver (2006)
Sylvia Wallach, SOBC – Port Alberni (2005)
Sallie Szanik, SOBC – Prince George (2004)
Randy Scott, SOBC – North Shore (2003)
Ralph Bramble, SOBC – Prince George (2002)
Rita Quelch, SOBC – North Shore (2001)
Sally Yee, SOBC – Vancouver (2000)
Mary McIntosh, SOBC – Vancouver (1999)
Dee Neukomm, SOBC – Prince George (1998)
Mick McLellan, SOBC – Kimberley/Cranbrook (1997)
Mona Hazell, SOBC – Penticton (1996)
Maureen Brinson, SOBC – Campbell River (1995)
Carmen Biko, SOBC – Vancouver (1994)
Hughie Wat, SOBC – Vancouver (1993)
Kathy Dumont, SOBC – Kamloops (1992)
Robb Berezan, SOBC – Coquitlam (1991)
Mike Vezina, SOBC – Surrey (1990)
Carollyne Sinclaire, SOBC – Vancouver (1989)