Howard Carter was an upstanding member of the automobile business community and a great friend of Special Olympics BC.
Mr. Carter recognized the value of coaches and as such this award is presented in his memory. The winner of the Howard Carter Award is a coach who provides exceptional training to the athletes and ensures that they are prepared to beat their personal bests and deliver high-calibre performances at competitions. This coach is a creative problem solver and always is developing new ways to improve strength and conditioning of the athletes.
2018 Howard Carter Award recipient: Courtney Keith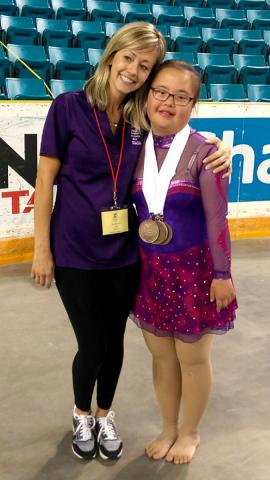 Special Olympics BC – Delta's Courtney Keith is well-known for her positive attitude. As a coach for rhythmic gymnastics, her ability to lift up her athletes and help them reach their full potential is matched by her dedication to go above and beyond when it comes to individualized training with the specific needs of each athlete in mind. Keith works hard to help athletes succeed, and she is the deserving winner of the 2018 Howard Carter Award.
One of Keith's main strengths is her communication skills, and she takes time and care to take athletes' personalities into account when training them. Her positive attitude inspires athletes and coaches, and she always considers an athlete's overall well-being, not just the athlete's progress in a sport.
A coach with almost 10 years of experience with Special Olympics BC, Keith has helped elevate the SOBC – Delta rhythmic gymnastics program. Prior to her arrival, the Local had never sent athletes to Provincial or National Games. Through her hard work, dedication, and commitment to her athletes, Keith helped two SOBC – Delta rhythmic gymnasts break that barrier and make it all the way to the 2014 Special Olympics Canada Summer Games in Vancouver. 
Keith has inspired athletes by encouraging them to set goals and try their best, and she has set up extra practices and performances to help them achieve these goals. By setting achievable goals for fitness, nutrition, training, and competition, she has encouraged athletes to move forward in all aspects of their lives. 
SOBC salutes all the deserving nominees for the 2018 Howard Carter Award:
Nikki Apps, SOBC – Comox Valley
Penny Coyle, SOBC – Kimberly/Cranbrook
Wilma VanHage, SOBC – Prince George
Past Howard Carter Award recipients:
Nanci Martin, SOBC – Vancouver (2009)
Jackie Ross, SOBC – Prince George (2008)
Aleila Miller, SOBC – Smithers (2007)
Heather Hamilton-Wright, SOBC – Vancouver (2006)
Sylvia Wallach, SOBC – Port Alberni (2005)
Sallie Szanik, SOBC – Prince George (2004)
Randy Scott, SOBC – North Shore (2003)
Ralph Bramble, SOBC – Prince George (2002)
Rita Quelch, SOBC – North Shore (2001)
Sally Yee, SOBC – Vancouver (2000)
Mary McIntosh, SOBC – Vancouver (1999)
Dee Neukomm, SOBC – Prince George (1998)
Mick McLellan, SOBC – Kimberley/Cranbrook (1997)
Mona Hazell, SOBC – Penticton (1996)
Maureen Brinson, SOBC – Campbell River (1995)
Carmen Biko, SOBC – Vancouver (1994)
Hughie Wat, SOBC – Vancouver (1993)
Kathy Dumont, SOBC – Kamloops (1992)
Robb Berezan, SOBC – Coquitlam (1991)
Mike Vezina, SOBC – Surrey (1990)
Carollyne Sinclaire, SOBC – Vancouver (1989)