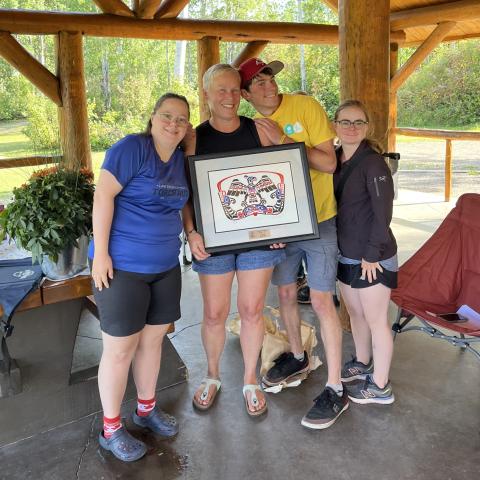 Special Olympics BC – Smithers coach Gale Jones has been involved with SOBC for 10 years, consistently dedicating her valuable time and efforts to empower athletes.
Gale always has a smile on her face and she genuinely cares about the athletes she coaches for who they are as people. Her strong relationships with athletes extend to their parents and caregivers, keeping them informed of the athletes' sport progress and ways they can grow in the Special Olympics community.
As an experienced coach for swimming and Club Fit, Gale creatively devises specific exercises for athletes who need modifications, and continuously researches options to support athletes with different levels of ability. She finds innovative ways to keep her practices exciting for all athletes and fellow coaches.
Gale is also an outstanding mentor to first-time coaches, sharing her in-depth knowledge of swimming skills and Club Fit workouts. She is very supportive of their development, encouraging them to attend coaching workshops and providing the best resources to help them succeed in their roles.
Gale is a deeply valued member of the SOBC community, as she continuously creates opportunities for athletes and their families to participate and grow in the Special Olympics movement.
Congratulations to Gale and to all of the deserving 2023 award nominees! 
SOBC looks forward to honouring all the deserving winners and nominees in a virtual awards ceremony on September 20, 2023 at 6 p.m.PT, helping open the next sport season with an inspiring celebration! Stay tuned for details!
MORE ON THE HOWARD CARTER AWARD
LEARN MORE ABOUT SOBC'S PROVINCIAL AWARDS