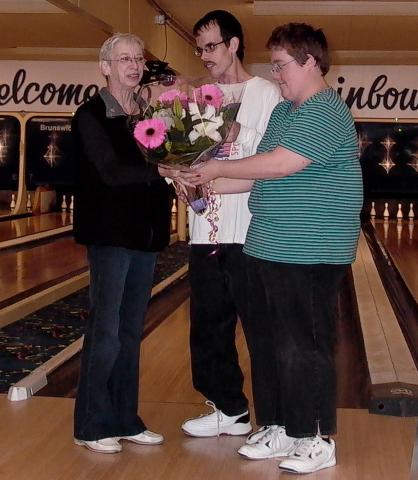 Empathy, approachability, tireless dedication to each and every athlete: These are the kind of qualities that Jaci Gaetz has in spades, and that have helped make her the 2010 winner of the Howard Carter Award. The head coach of SOBC – Port Alberni's bowling program, Jaci has been involved with Special Olympics for more than 24 years. She has also won the 2010 Special Olympics Canada Female Coach of the Year award.
Port Alberni is overflowing with examples of her contributions and dedication to athletes of all levels. Jaci has worked tirelessly to ensure the needs of all athletes are met, seeing to details as specific as rails to guide a blind bowler and ramps to assist participants in wheelchairs. Athletes at all stages have benefitted from her support, ranging from her creation of a Pee Wee bowling league to nurture young participants to the extra bowling practices she runs for athletes competing in provincial and national games. Jaci has attended many national and provincial games, and every year she leads as many teams as possible to regional qualifiers.
While Jaci organizes everything from teams and travelling to events, athlete stats and much more for the Port Alberni bowling program, she also has boundless patience and understanding to offer individual athletes and issues. Athletes know they can turn to Jaci to resolve conflicts in a compassionate and confidential manner. Volunteers and coaches want to keep coming back to the bowling program each year to support her. New recruits find themselves signing on thanks to Jaci`s friendly and unflagging encouragement. For the many things you do, Jaci, we thank you.