2019 Howard Carter Award recipient: Angela Behn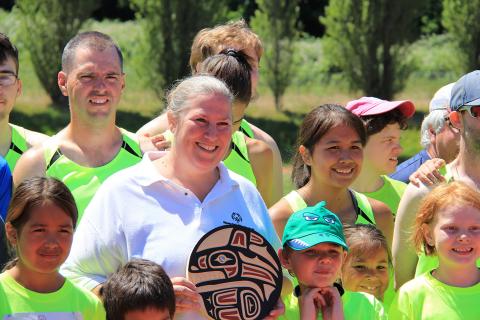 Throughout her 32 years as a Special Olympics coach in several different sports, SOBC – Nanaimo's Angela Behn has empowered many athletes to experience the joy of achieving personal bests, exceeding expectations, and turning the spotlight on their abilities. 
We are delighted to congratulate Behn as the deserving winner of the 2019 SOBC Howard Carter Award for coaching excellence!
Behn brings extensive experience in sport, education, coaching, and Special Olympics to the table, and yet she never stops seeking ways to increase knowledge, tools, and techniques available to both athletes and coaches, in order to benefit and enrich athletes' lives through sport and beyond.
Behn is currently SOBC – Nanaimo's Head Coach of athletics and figure skating, and an Associate Coach for alping skiing and Club Fit. Over the year she has also coached soccer, swimming, and snowshoeing, as well as serving as a rhythmic gymnastics program volunteer. In addition, she has many times stepped in to help facilitate competitive opportunities for local athletes in a wide range of other sports including 5-pin bowling, cross country skiing, and softball.
Behn is widely known in the Special Olympics community throughout the province, country, and planet, and is well regarded for her dedication to her athletes and to helping them achieve personal bests. Her focus is always on personal optimal performance ahead of podium results, and her carefully crafted yearly practice and competition plans are created in collaboration with each athlete determining their seasonal goals together.
Behn brings great problem-solving abilities and an ongoing desire to learn and improve. She seeks out coaching mentors who have the experience she feels she needs to enhance her skills, and she generously makes an effort to kindly mentor other coaches when appropriate in order to help everyone rise.
Behn is a highly qualified coach as well as a certified athletics official and speaker of sign language. She also regularly reaches out to the wider sport community to tap into sport-specific expertise, support an inclusive community of practice, and create opportunities for SOBC athletes. 
In a recent example, her award nominators wrote, "Angela took it upon herself to integrate one of her athletes into the Pacific Sport Vancouver Island Ignite Athlete Development Program in the 2015-2017 seasons. Simon Phipps was able to gain a great deal of respect from his coaches succeeding in his athletic development, and he moved into the multi events Pentathlon as a competitor. That same athlete competed in the 2017 Special Olympics BC Summer Games in Kamloops, taking home a silver medal competing on his own, and had the opportunity to compete at the 2018 Special Olympics Canada Summer Games. In one of her many proud coach moments, one official was heard to say at the long jump venue, 'That is one fine young man and an excellent athlete.'"
Behn's athlete-centred approach has helped many athletes achieve their personal bests throughout all levels of training and competition. In another recent example, Behn has been the longtime coach of SOBC – Nanaimo's Arianna Phillips who racked up amazing achievements on the world stage at the 2019 Special Olympics World Summer Games. Behn supported Phillips in cultivating an impressive focus on striving for personal bests, not podiums. 
Congratulations and thank you so much, Angela, for all that you do for Special Olympics BC and athletes!
SOBC salutes this year's deserving Howard Carter Award nominees:
Shannon Dempster, SOBC – Victoria 
Cheryl Friesen, SOBC – Vernon
Jennifer Fyfe, SOBC – Vancouver
Misty Pagliaro, SOBC – Kimberley/Cranbrook
Past Howard Carter Award recipients:
Nanci Martin, SOBC – Vancouver (2009)
Jackie Ross, SOBC – Prince George (2008)
Aleila Miller, SOBC – Smithers (2007)
Heather Hamilton-Wright, SOBC – Vancouver (2006)
Sylvia Wallach, SOBC – Port Alberni (2005)
Sallie Szanik, SOBC – Prince George (2004)
Randy Scott, SOBC – North Shore (2003)
Ralph Bramble, SOBC – Prince George (2002)
Rita Quelch, SOBC – North Shore (2001)
Sally Yee, SOBC – Vancouver (2000)
Mary McIntosh, SOBC – Vancouver (1999)
Dee Neukomm, SOBC – Prince George (1998)
Mick McLellan, SOBC – Kimberley/Cranbrook (1997)
Mona Hazell, SOBC – Penticton (1996)
Maureen Brinson, SOBC – Campbell River (1995)
Carmen Biko, SOBC – Vancouver (1994)
Hughie Wat, SOBC – Vancouver (1993)
Kathy Dumont, SOBC – Kamloops (1992)
Robb Berezan, SOBC – Coquitlam (1991)
Mike Vezina, SOBC – Surrey (1990)
Carollyne Sinclaire, SOBC – Vancouver (1989)