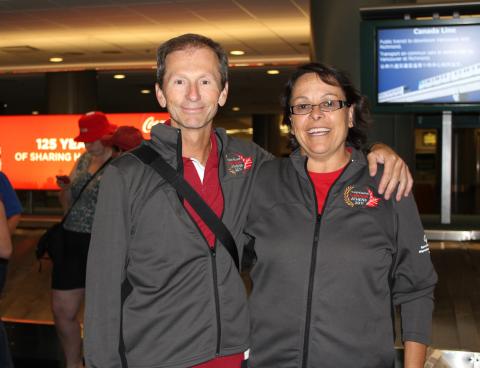 The recipient of the 2011 Howard Carter Award, Donna Bilous, embodies the true spirit of the prize, as an exceptional leader who motivates, supports and fully equips athletes so that they are totally prepared to set personal bests and deliver quality competitive efforts.
In her eight years with SOBC, Donna, who serves as SOBC – Abbotsford's vibrant and respected Local Coordinator, has coached athletes in both winter and summer sports at National and World Games. She has helped foster a Local worthy of receiving recognition for contributions to their community, which came after SOBC – Abbotsford was nominated for the city's Business Excellence Awards in 2010. She has served Special Olympics sport at a national level, and goes out of her way to attract young-adult athletes as new coaches and help mature Special Olympics athletes to become coaches themselves.
All the while, in every facet of her involvement with Special Olympics, Donna demonstrates her much-valued intelligence, integrity, and inspirational energy.
As the Head Coach for speed skating for Team BC 2012, Donna was a strong asset with a record of inspiration and achievement. Under Donna's guidance, Paige Norton successfully advanced through the Provincial and National Games in 2007 and 2008 to be chosen for Team Canada 2009. Donna served as Head Coach of Canada's speed-skating team for the 2009 Special Olympics World Winter Games in Boise, and each of the eight athletes won at least one medal. Five athletes earned two medals each, and two captured three medals apiece, including Paige, who earned two gold and three bronze medals.
After taking a youth soccer team to the 2009 SOBC Provincial Games, Donna was also snapped up to serve as a coach for the Surrey soccer team that won gold at the 2010 Special Olympics Canada Summer Games and advanced to the 2011 Special Olympics World Summer Games, where they captured a bronze medal.
Back home in Abbotsford, Donna's energy and superior organizational skills drive a thriving Local that offers programs in 14 sports and has delved into new initiatives such as the Active Start and FUNdamentals programs. She encourages and believes in SOBC – Abbotsford athletes to the point that they are able to realize their full potential and stand as excellent community members and ambassadors for Special Olympics.
Sincere thanks and congratulations to you, Donna!