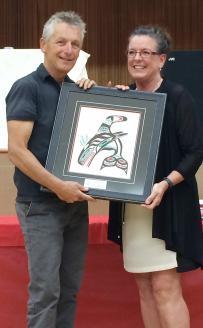 Special Olympics BC – Kelowna coach Garth Vickers is an outstanding mentor known for his exceptional ability to bring out the best in each athlete, his dedicated leadership for athletes and coaches competing at Provincial, National, and World Games, his instrumental work to support the development of youth programs and fellow coaches, and his genuine caring for his athletes. With 18-plus years as an outstanding SOBC coach, Vickers is the deserving winner of the 2016 Howard Carter Award.
Vickers has been SOBC – Kelowna's cross-country skiing Head Coach since 1997-98, and has served as the sport's Provincial Coach for many years, where he has championed development, growth, new techniques, and opportunities for athletes and coaches. Vickers served as a Special Olympics Team Canada cross-country skiing coach for the World Games in Boise and Nagano, and has helped Team BC athletes shine as a coach for the National Games in Quebec City, St. Albert, and most recently in Corner Brook, Newfoundland.
In 2012, Vickers led the Team BC cross-country skiing group that achieved many personal bests, had a tremendous time working as a team, and were very proud of their performances, knowing they had given their very best. Four years later, Vickers and the Team BC 2016 cross-country skiing coaches helped the athletes power their way to a total of 33 medals, tying with the speed skating crew for Team BC's highest medal count, and outstanding improvement was seen by the athletes, including SOBC – Kelowna's Tracey Melesko, who has trained with Vickers for numerous years and is reaching new heights now in her cross-country skiing and fitness.
As a former special education teacher, Vickers brings invaluable understanding and skills to the table, and he is able to coach and develop athletes at all levels, not just provincial and national teams. His athletes love him – he is truly considered their friend and he considers them friends, his nominators said.
"The athletes and their success is always at the front of Garth's mind. He finds a way for each athlete to achieve success and improve, regardless of their ability level," his nominators wrote. He helps his athletes learn and fosters their growth not only in sport, but helps them translate that into their everyday life. This confidence can be seen in Garth's athletes."
Vickers is also known as an outstanding mentor to other coaches, and as an instrumental figure in the development of youth programs. He has devoted great skill and care to helping create, grow, and support the SOBC – Kelowna youth programs.
Congratulations, Garth, and many thanks for your remarkable coaching!
SOBC salutes all the deserving nominees for the 2016 Howard Carter Award:
Nikki Apps, SOBC – Comox Valley
Greg Bodin, SOBC – Coquitlam
Glen Ellison, SOBC – Richmond
Craig Hikida, SOBC – Vancouver
Randy James, SOBC – Comox Valley
Courtney Keith Motz, SOBC – Delta
Steve Norton, SOBC – Kimberley/Cranbrook
Marie Telder, SOBC – Sunshine Coast
Wilma VanHage, SOBC – Prince George