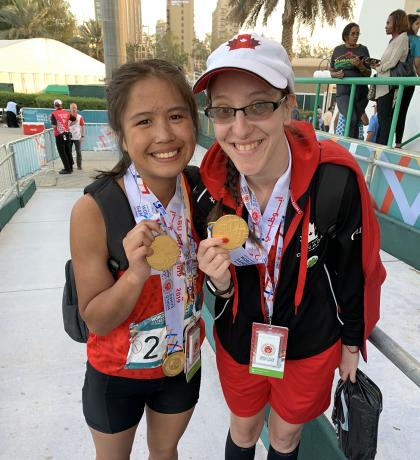 The 2019 Special Olympics World Summer Games delivered a week of remarkable competition where more than 7,500 athletes with intellectual disabilities from 200 countries showed the world their amazing abilities in Abu Dhabi and Dubai. Special Olympics Team Canada 2019 had a highly successful Games, including incredible performances by British Columbia's 11 athletes and inspiring dedication from our province's six coaches and three mission staff.
The SOBC athletes worked very hard in their year-round Special Olympics programs to train and prepare for the World Games. Thanks to their own dedication and the help of their hometown coaches and supporters, they delivered top-quality performances and many personal bests on the world stage.
"Our province should be very proud of our members of Special Olympics Team Canada 2019. They worked very hard to be at their best on the world stage, and they showed inspiring determination, sportsmanship, and skills," said Lois McNary, Special Olympics BC Vice President, Sport.
The SOBC athletes' achievements at these World Games mark the culmination of an exciting four-year journey, as the B.C. athletes progressed through Regional Qualifiers in 2016, the 2017 Special Olympics BC Summer Games, and the 2018 Special Olympics Canada Summer Games and National Bowling Championships to earn the opportunity to compete at the 2019 World Games in Abu Dhabi and Dubai.
B.C.'s highlights were the many personal bests, firsts, and goals achieved by all the athletes – please see full team list and results below.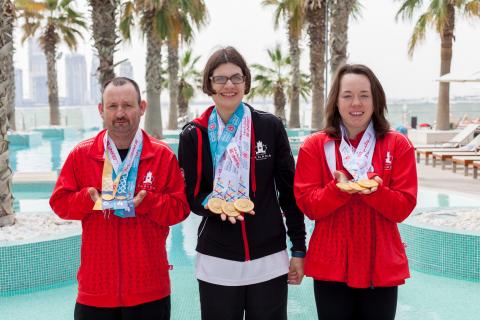 The podium charge was led by hardworking swimmers Genevieve Verge of Special Olympics BC – Sunshine Coast and Kelsey Wyse of SOBC – Kelowna, who raced to three gold medals each. In addition, SOBC – Nanaimo track and field athlete Arianna Phillips and 10-pin bowler Linda Renner of SOBC – Prince George went three for three in their respective events, with Renner rolling to two gold medals and one silver, and Phillips achieving two personal bests in her individual events while winning gold medals in high jump and 4x100m relay and bronze in the 200m run. 
Verge raced to the top of the podium in 25m butterfly, 50m freestyle, and 4x50m medley relay. Wyse won with personal bests in the 400m freestyle and 800m freestyle, and struck gold with her 4x50m freestyle relay team. Wyse also earned a fantastic fourth-place finish in the 1500m freestyle, an event that is not offered nationally but she raced it for the first time in Dubai and excelled. 
Asked to share her highlights of the World Games experience, Verge replied, "Getting to know my friends and my teammates – getting to race other people – and getting to see everyone come together as one and celebrate the love of sport, those have been the best parts." 
Wyse and Verge also said they really enjoyed Special Olympics Team Canada's visit to a local school and local cultural experiences, as well as trading pins. "It was all so cool," Wyse said.
"I'd like to thank Catherine Duncombe, my training coach, and my mom, and everyone who has supported me through this and everyone who has helped me," Verge said. "I have utmost gratitude to everyone and would like to give a big thank you to everyone who has supported me."
Wyse added, "I'd like to thank my parents, Dave and Donna Willms, and my coach back home in Kelowna, which is Shane [McLeod]."
More B.C. highlights
SOBC – Victoria 10-pin bowler Patrick Reid rolled to a gold medal in doubles play and fifth-place finishes with his impressive play in the singles and team events. He said his first-ever World Games experience was awesome. "Gold was possible by remembering all the hard work I put in during my training the last few months with Shannon' Dempster, and the support during the last week of competition from my Games coaches.
In athletics, SOBC – Fort St. John's ace Sheryl Jakubowski tackled the long-distance running events under the Dubai sun. In the 5000m she crushed a personal-record time, taking two minutes off her previous best, and earned a gold medal, and followed that up with a fine fourth-place showing in the 10000m. SOBC – Surrey's Malcolm Borsoi and Burnaby's April Armstrong also shone on and off the fields of play! View full results below.
SOBC's brilliant golfers Erin Thom and Kyle Grummett battled hard on the Abu Dhabi course and came away with silver and bronze medals, respectively! SOBC – Kimberley/Cranbrook's Thom was great on and off the course in her first Special Olympics World Summer Games after five previous World Winter Games appearances for alpine skiing. SOBC – Kelowna's Grummett showed incredible determination in powering through challenging conditions and made everyone proud with his perseverance. Comments from their proud coaches below!
SOBC – Penticton swimmer John Canning was outstanding in the pool (full results below) and was described by mission staff Darren Inouye as "a model Canadian!" We are so proud!!
B.C. team members and results
Name

SOBC Local/Hometown

Sport

Role

Results

Victoria

10-pin bowling

Athlete

Doubles: Gold

Singles: 5th

Team: 5th

Prince George

10-pin bowling

Athlete

Doubles: Gold

Singles: Gold

Team: Silver

Burnaby

Athletics

Athlete

4x100m relay: Gold

Mini javelin: Bronze

200m

Surrey

Athletics

Athlete

3000m run: Gold

1500m run: 4th

4x400m relay: 5th

Fort St. John

Athletics

Athlete

5000m run: Gold

10000m run: 4th

Nanaimo

Athletics

Athlete

High jump: Gold

4x100m: Gold

200m run: Bronze

Abbotsford

Athletics

Head Coach

 

Burnaby
(Hometown: Vancouver)

Athletics

Coach

 

Kelowna

Bocce

Head Coach

 

Kelowna 
(Hometown: West Kelowna)

Golf

Athlete

Level 5 (18-hole individual play): Bronze

Cranbrook

Golf

Athlete

Level 4 (nine-hole individual play): Silver

Kelowna

Golf

Coach/Caddie

 

Cranbrook

Golf

Coach/Caddie

 

Campbell River

Powerlifting

Coach

 

SOBC Competition & Youth Coordinator
(Hometown: Victoria)

Soccer

Mission Staff

 

Penticton

Swimming

Athlete

100m freestyle: 4th

4x25m freestyle: 4th

50m freestyle: 6th

Sunshine Coast
(Hometown: Sechelt)

Swimming

Athlete

25m butterfly: Gold

50m freestyle: Gold

4x50m medley relay: Gold

Kelowna

Swimming

Athlete

400m freestyle: Gold

800m freestyle: Gold

4x50m freestyle relay: Gold

1500m freestyle: 4th

SOBC Region 3 Coordinator
(Hometown: Abbotsford)

Swimming

Mission Staff

 

SOBC Region 5 Coordinator
(Hometown: Burnaby)

Swimming

Mission Staff

 
More quotes
Team Canada golf coach/caddie Misty Pagliaro of SOBC – Kimberley/Cranbrook on Erin Thom: "I am so proud of her accomplishments and the way she represented not only Canada but also B.C. She has really started to blossom and is not the shy wallflower I met five years ago. She is talking to everyone and even trading pins. She shows great sportsmanship to her teammates and competitors, and is very grateful to all the volunteers. Erin has been a fantastic ambassador for Special Olympics BC, and I am proud to be her coach and "bag lady" aka caddie."
Team Canada golf coach/caddie John Matthews of SOBC – Kelowna: "Very proud of determined athlete Kyle Grummett. As anyone who has played golf knows all too well, sometimes you don't have your "A" game. Kyle would be the first to tell you he did not have his "A" game this week. However, he is a battler like few I've ever seen.
"He hit off fairways, long grass, short grass, cart paths, baked mud, chunks of hardened sand, hard sand traps, strange exotic weeds and almost every condition you could imagine on a very tough course. To make it even more challenging, there was almost constant wind on a seaside links course. One day was played in a howling sandstorm. In fact, one of the British fans who followed us for the last 3 days cheering for one of Kyle's opponents said he has never seen someone recover out of seemingly impossible conditions like Kyle did!
"Through all of this, Kyle battled to a bronze medal in Division 5. The tagline for World Games is "Meet the Determined." For sure in Kyle's case the tagline fits!"
Patrick Reid: "It feels awesome to win a gold medal, and the best part of the trip so far has been winning that medal in front of my mom and dad."
Bowling Head Coach Rebecca Norton of Ontario: "Patrick bowled very well all week; he just came up short against some tough competition earlier in the tournament. During the final day of competition, he didn't hold back. He was focused and along with his doubles partner, they took gold handily."
Team Canada powerlifting coach George Maclagan of SOBC – Campbell River: "Sport is life and life is a journey to be loved and experienced."
Team Canada athletics Head Coach Tom Norton of SOBC – Abbotsford: "Personal-record performances were the order of the day, not to mention personal-growth achievements by our athletes, a real gold medal in my view. As ambassadors for sport and good citizens, our athletes excel."
Coverage
Pre-Games