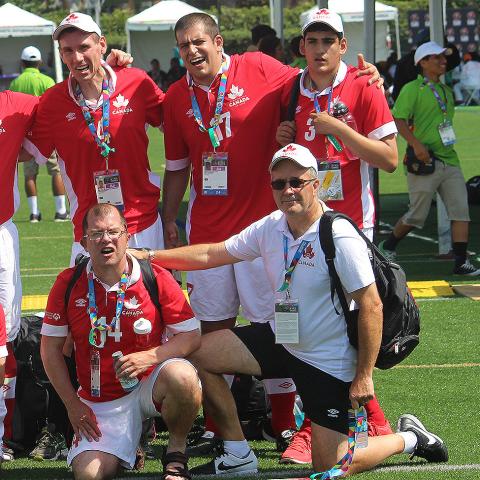 In his 34 years as a Special Olympics coach, Vince Astoria has coached soccer and softball in Abbotsford and Mission, and regularly jumps in to help with many other sports and events in order to create opportunities for athletes. He has coached either a soccer or softball team at every Provincial Games since he started with Special Olympics! He has also successfully coached soccer teams at National and World Games.
Vince is a long-term volunteer for the purest of reasons: his love of sport and of the athletes he coaches. He volunteers because he cares deeply about Special Olympics. He has a true passion for the organization and the positive impact it has on athletes. That makes him a great coach, an outstanding fundraising volunteer, and a compassionate friend to athletes.
Vince is known for empowering athletes to achieve personal bests, delivering high-quality training, maintaining an inclusive and positive environment, and making all aspects of sport fun. He makes everyone feel respected, welcomed, and encouraged. Everyone wants Vince on their team!
Congratulations to Vince and to all the inspiring 2022 nominees! Watch the Grassroots Coach Award segment in the 2022 SOBC Awards Ceremony hosted by legendary broadcaster and Special Olympics champion Bernie Pascall:
About the Grassroots Coach Award
Past Grassroots Coach Award recipients:
Michelle Cooper, SOBC – Victoria (2009)
Chris Doyle, SOBC – Surrey (2008)