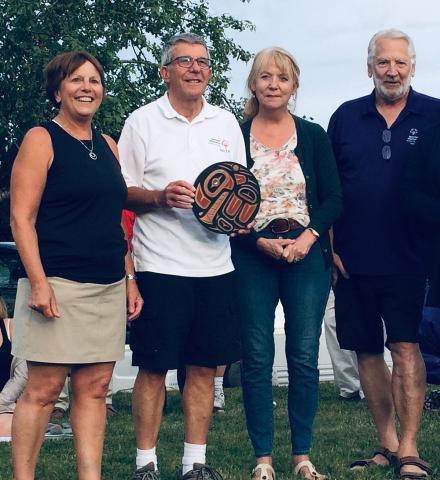 Special Olympics BC – Delta soccer Head Coach Stuart Holmes is an inspiring supporter, leader, and collaborator for all his athletes, a dedicated ambassador for Special Olympics, and the deserving winner of the 2019 SOBC Grassroots Coach Award!
Holmes has been a valued SOBC – Delta soccer coach for 12 years, and brings not only an extensive background in soccer but also a very positive manner, amazing listening skills, inspiring and collaborative leadership abilities, and excellent communication skills.
"The athletes respect him and trust him instinctively," his nominators wrote. "Stuart has personally inspired athletes by encouraging them to set goals and he always follows up with each athlete. He is a great example to his athletes by setting achievable goals for fitness, nutrition, training, and competing. He encourages them to move forward in all aspects of their life, both in Special Olympics and in life skills."
Holmes never hesitates to step forward and help in additional areas needed to ensure more opportunities and support for Special Olympics athletes, ranging from fundraising and advocacy to taking on additional coaching roles with Regional teams for the empowering Special Olympics BC Games opportunities. 
At home in SOBC – Delta's weekly soccer program, he engages all athletes and collaborates with them to develop strategies that work for them. He fosters an environment of trust, collaboration, and clear communication with fellow coaches and with parents and caregivers. 
"He has a very positive manner and is fabulous listener, which is encouraging for the athletes. He always considers their overall wellbeing, not just their progress in the sport. Stuart is a friend/mentor to them as well as a coach," his nominators wrote. "He assesses each athlete's skills and sets goals for each one.  Athletes respond to him as a true leader."
Congratulations, Stuart, and thank you for your inspirational coaching, leadership, and caring!
SOBC salutes this year's deserving Grassroots Coach Award nominees: 
Dave Bodie, SOBC – Victoria 
Stuart Coates, SOBC – Mission
Penny Coyle, SOBC – Kimberley/Cranbrook
Deb Eldridge, SOBC – Surrey
Monique Goward, SOBC – Williams Lake
Koltyn Lamonday, SOBC – Revelstoke 
Aaron Leontowich, SOBC – Kamloops 
Shayla McLean, SOBC – Kelowna
Katherine Taberner, SOBC – Port Alberni
Past Grassroots Coach Award recipients:
Michelle Cooper, SOBC – Victoria (2009)
Chris Doyle, SOBC – Surrey (2008)