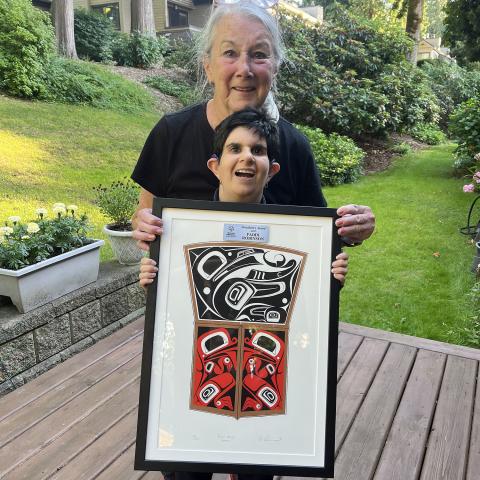 Special Olympics BC – Surrey's Paddi Robinson has been a dedicated Special Olympics volunteer for 17 years. She is a thoughtful, insightful volunteer who provides essential leadership for Special Olympics fundraising and awareness opportunities. She contributes her valuable organizational skills, passion, and commitment to make a big difference through these important initiatives.
Paddi is known for the high quality of her work. She goes above and beyond with her time and contributions in order to make sure Special Olympics is well represented, fundraisers and programs are successful, and opportunities are created for athletes to shine.
Paddi creates an inclusive, positive environment through all her interactions in Special Olympics. She leads by example with her commitment to doing what is right and fair for everyone.
Congratulations to Paddi and to all of the inspiring 2022 award nominees! Watch the 2022 SOBC Awards Ceremony hosted by legendary broadcaster and Special Olympics champion Bernie Pascall:
About the SOBC President's Award
Past President's Award recipients:
Marlene Davison, SOBC – Surrey (2009)
Maureen Brinson, SOBC – Campbell River (2008)
Thom Ross, SOBC – Prince George (2007)
Debra Colvin, SOBC – Burnaby (2006)
Edna McCreight, SOBC – Port Alberni (2005)
Jennifer Benjamin, SOBC – Surrey (2004)
Dale Hanna, SOBC – Quesnel (2003)
May Wilson, SOBC – Vernon (2002)
Shaheen Khatami, SOBC – Richmond (2001)
Neville Askew, SOBC – Cowichan Valley (2000)
Darlene Kramp, SOBC – Courtenay/Comox (1999)
Jo Osborne, SOBC – Victoria (1998)
Joan Cox, SOBC – Terrace (1997)
Pam Sywulych, SOBC – Vancouver (1996)
Betty Timm, SOBC – Vernon (1995)
Yvon Savoie, SOBC – Courtenay/Comox (1994)
Cherald Tutt, SOBC – Kelowna (1993)
Flo-Elle Watson, SOBC – Victoria (1992)
Anne McCabe, SOBC – North Vancouver (1991)
Edie Burdett, SOBC – Vancouver (1990)