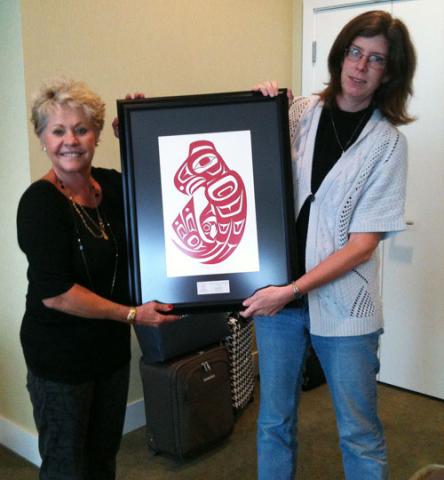 For more than 20 years, Barb Tull has made a difference for Special Olympics BC athletes, and for the SOBC organization at large, through her generous and dedicated spirit and her intelligent leadership. As the winner of the 2012 President's Award, Barb is being recognized for the many and varied leadership roles she has held in her 23 years with SOBC, the mentorship and technical knowledge she has shown in her leadership positions, and the dedication to athletes that she has demonstrated time and again.
Barb has been the valued Region 4 Coordinator and member of the SOBC Leadership Council for the last 12 years. Prior to taking on that role, she served on the SOBC – Richmond Executive Committee for more than eight years, giving her time in a variety of positions including Local Coordinator.
Since joining SOBC as a teenager, Barb has done so much for this community, and says Special Olympics has truly become part of her life.
Examples of the many areas where she has made a difference range from her mentorship of rhythmic gymnastics coaches in the Lower Mainland, supporting their navigation of this highly technical sport and ensuring SOBC athletes have the best possible support and preparation for competitions, to her development of the Chef de Mission package that has strengthened regional teams going to Provincial Games. Barb's strong work with the Leadership Council has also included her efforts with the working committees for coaching and requests to transfer, and her support of new members of the council, helping them grow into their roles and best serve their Regions.
"Barb is a well-respected member of the Leadership Council. She is able to look at issues from a number of perspectives and always keeps the athletes at the forefront of the conversation," her nominators wrote. "When she Chefs a regional team, both the athletes and the volunteers respect her as a leader and look at her as a positive motivator and a great cheerleader."
For Barb, it's the "aha" or "lightbulb" moment that keeps her hooked on Special Olympics. It's a moment that many coaches and volunteers know and love, the moment where (as Barb describes it) "you can see that what the athlete has been working and struggling to achieve just 'clicks.'
"The spark that our athletes get when they have achieved that skill, pass, throw, jump, or drill – whatever it is, it is magical!" Barb wrote after receiving the President's Award.
We are so grateful, Barb, for your many contributions to SOBC!
Sincere congratulations to all of the 2012 President's Award nominees:
Marilyn Boxwell (SOBC – Nakusp)
Christine Kyles (SOBC – Victoria)
Terry McLeod (SOBC – Nakusp)
Julia Minnie (SOBC – North Shore)
Jo-Ann Morrison (SOBC – Campbell River)