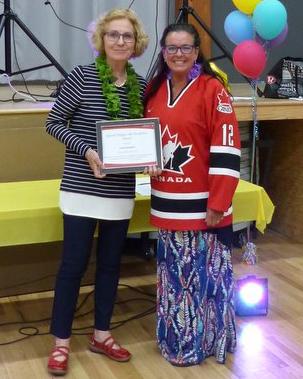 A Special Olympics BC – Kelowna volunteer of more than 20 years, Joan Gerhardt has played a critical role in raising funds and awareness for Special Olympics in her community. Gerhardt is an inspiring leader who is the driving force behind her Local's most important fundraising event, and she is the deserving winner of SOBC's 2017 President's Award.
"Joan is respected as a trusted, highly motivated supporter of Special Olympics athletes and the Local in her roles as a fundraiser, leader, coach, mentor, and friend. During the course of reaching out to fellow SO volunteers, athletes, and community leaders, Joan has universally been described as being well deserving of this nomination and that it is long overdue," her nominators wrote.
In 2005, Gerhardt took on the task of organizing SOBC – Kelowna's annual golf fundraiser. More than 10 years later, Gerhardt has developed the tournament into a highly effective fundraising event that provides opportunities for community business leaders to support SOBC – Kelowna and highlights the personalities and achievements of the Local's athletes. Gerhardt's nominators say the tournament is the "feel-good Special Olympics-focused event of the year for our community and athletes," and it raises funds that play an important role in supporting the Local's empowering programs.
Along with her involvement in the golf tournament, Gerhardt has served as Treasurer with SOBC – Kelowna and has been coaching with the Local for more than 20 years. As coaches, Gerhardt and her husband Wulf have built a thriving cross country skiing program and have developed a close relationship with Telemark Nordic Club that has proved beneficial to athletes. The couple has also started up a bocce program with SOBC – Kelowna that has become very popular with the Local's athletes.
Thank you, Joan, for your leadership, commitment, and hard work!
Sincere congratulations to all of the 2017 President's Award nominees:
Phyllis Baudais, SOBC – Comox Valley
Andrea Boyes, SOBC – Victoria
Sami Fields, SOBC – Vancouver
Sally Masters, SOBC – Kimberley/Cranbrook
Lisa McPhedrian, SOBC – Richmond
Grace Todd, SOBC – Port Alberni
Arlene Vanderniet, SOBC – Grand Forks
Past President's Award recipients:
Marlene Davison, SOBC – Surrey (2009)
Maureen Brinson, SOBC – Campbell River (2008)
Thom Ross, SOBC – Prince George (2007)
Debra Colvin, SOBC – Burnaby (2006)
Edna McCreight, SOBC – Port Alberni (2005)
Jennifer Benjamin, SOBC – Surrey (2004)
Dale Hanna, SOBC – Quesnel (2003)
May Wilson, SOBC – Vernon (2002)
Shaheen Khatami, SOBC – Richmond (2001)
Neville Askew, SOBC – Cowichan Valley (2000)
Darlene Kramp, SOBC – Courtenay/Comox (1999)
Jo Osborne, SOBC – Victoria (1998)
Joan Cox, SOBC – Terrace (1997)
Pam Sywulych, SOBC – Vancouver (1996)
Betty Timm, SOBC – Vernon (1995)
Yvon Savoie, SOBC – Courtenay/Comox (1994)
Cherald Tutt, SOBC – Kelowna (1993)
Flo-Elle Watson, SOBC – Victoria (1992)
Anne McCabe, SOBC – North Vancouver (1991)
Edie Burdett, SOBC – Vancouver (1990)