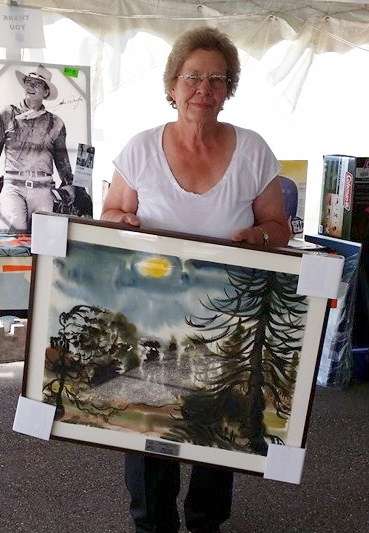 Ever since Special Olympics BC – Fort St. John started up 28 years ago, Helen Gaulin has given her heart and soul to the community and played a critical role in the Local's growth with grace and tenacity. We are extremely grateful for all she has done, and honoured to present her with the 2014 SOBC President's Award.
Gaulin has held nearly every position a volunteer can on the SOBC – Fort St. John Executive Committee including Treasurer, Program Coordinator, and Local Coordinator. She has also been a coach and the go-to social event organizer for many years – and provider of delicious goodies that were a constant at wrap-ups, Christmas parties, and AGMs.
Thanks to her encouragement of athletes and her tireless recruiting over the years, SOBC – Fort St. John grew from a bowling-only community to a Local that now offers more than seven sports and has sent athletes all the way to World Games.
Gaulin has long been regarded as the local athletes' biggest fan, and her spirit and support have left a lasting impression on the athletes, who adore her. She goes above and beyond to support them, whether it's helping pack for competition or preparing for a world event.
Gaulin is a weekly presence at bowling practice in a town where the temperature regularly dips below -30 C, motivating athletes to brave the elements and come to practice prepared to participate. The athletes always look forward to seeing her and strive to follow her example of reliability.
Over her amazing volunteer career, Gaulin has forged lifelong friendships with other volunteers and parents, and watched many athletes grow from children into fantastic adult athletes. At every event or practice she attends she is greeted with cheers, smiles, and stories from the athletes eager to share their successes with her.
She has been an amazing mentor to people coming into Special Olympics, and is quick to take the lead when needed for the goals of Special Olympics and the success of athletes, doing everything from chairing meetings and travelling to coaching clinics and competitions, to organizing golf tournaments and countless other fundraisers. Gaulin has always given her best effort in any of the positions she held or events she organized, countless successful endeavors that were ultimately enjoyed by the entire Local.
Gaulin is a most deserving winner of the President's Award. While she will be greatly missed when she retires from SOBC this year,we thank her for everything she has done for Special Olympics, her local community, and the athletes.
Sincere congratulations to all of the 2014 President's Award nominees:
Denise Barker (SOBC – 100 Mile House)
Kathy MacDonald (SOBC – Chilliwack)
Gail Ponto (SOBC – Nakusp)
Geoff Uttley (SOBC – Surrey)
Bill and Joan Woikin (SOBC – Nelson)
Chuck Yee (SOBC – Richmond)