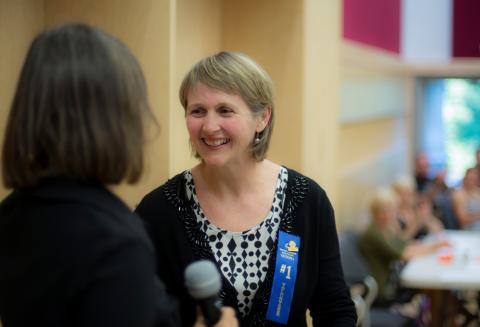 Special Olympics BC – Victoria Executive Committee members feel Margot Tubman has raised the bar for their Local, and this hardworking, respectful, organized, and energetic Volunteer Coordinator was the deserving winner of SOBC's 2015 President's Award.
In her five years with SOBC – Victoria, Tubman has had a significant impact through her dedication to her role and by her willingness to step up and assist wherever support is needed to help the Local run smoothly and well. Through her hard work and attention to detail and organization, Tubman has elevated delivery of the Volunteer Coordinator duties, and she has eagerly taken on additional responsibilities when needed in order to help the Local.
From supporting SOBC – Victoria's team of 120-plus volunteers to helping at special events and recruiting volunteers and planning the launch of a new FUNdamentals program, Tubman does it all, helping strengthen the Local and provide high-quality experiences for all athletes and volunteers.
She has developed strong procedures to ensure quality delivery of Volunteer Coordinator tasks, and puts great energy into attracting, retaining, and supporting volunteers. She has also helped the Local's strategic side by developing policies and helping implement and host annual strategic planning sessions for the Executive Committee to plan each new season.
While Tubman didn't have a background with Special Olympics when she started, she "dove into her position with gusto," her nominators wrote, and "applied her leadership skills, work ethic, and innate curiosity to grasp the working of the organization and then make it grow." She has earned respect with the SOBC – Victoria community and treats everyone else with respect in turn.
"One of our local board members said that Margot has 'raised the bar.' This positive impact inspires everyone on the Local's board to achieve beyond what they thought possible. Indeed, our Local has successfully increased its number of sports, and recruited quality volunteers, thanks to Margot's commitment to excellence," her nominators wrote.
Thank you, Margot, for all your dedication and efforts!
Sincere congratulations to all of the 2015 President's Award nominees:
Chuck Yee (SOBC – Richmond)
Geoff Uttley (SOBC – Surrey)
Jenny Wong (SOBC – Vancouver)
Joanne Thom (SOBC – Kimberley/Cranbrook)
Julie McIntyre (SOBC – Kelowna)
Rick Stanley (SOBC – Nanaimo)
Sandra Galletti (Regional Coordinator, Region 8)
Terri Stanko (SOBC – Cowichan Valley)