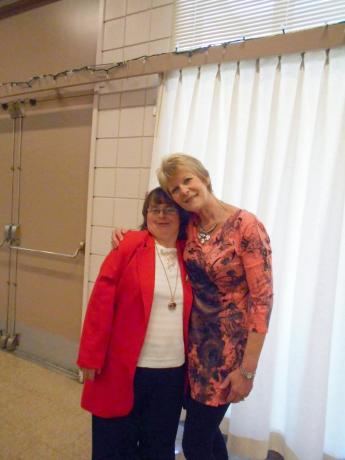 Special Olympics BC – Port Alberni Volunteer Coordinator Anne Evans is known for her positive attitude and diverse skill set, with the ability to step into any role as the need arises. She has worked tirelessly behind the scenes for decades. She is an outstanding champion for Special Olympics, and a joyful cheerleader for many athletes.
We are delighted to announce that Anne Evans is the deserving recipient of SOBC's 2020 President's Award!
Evans has been involved with SOBC – Port Alberni since its inception, and has always done what it takes to ensure that Port Alberni remains a community that offers sport opportunities to individuals with intellectual disabilities. On a wide range of topics from conflict resolution to athlete registration, she has been a source of knowledge and experience from which others can draw.
Evans is a longtime advocate for inclusion, and she organizes the annual SOBC – Port Alberni athlete banquet so that everyone is given the opportunity to come together, trade stories, and bond over their shared experiences. She is well known throughout the community as a leader of the Special Olympics movement, and is always ready to step in wherever she may be needed.
Evans also coordinates fundraising events throughout the year, such as the silent auction at Char's Landing, which provides the Local with additional funds to supplement their ongoing programs. Her consistent leadership has been an inspiration to many, and her efforts have provided many athletes with the opportunity to experience the joys of sport.
Her nominators said, "She spreads positive energy to everyone she meets in this organization. Port Alberni is fortunate to have her dedication, spirit, and commitment for all of these years. She is a gift to this organization!"
Congratulations, Anne, and thank you for everything that you have done! Your contributions have truly changed the lives of so many people.
2020 SOBC President's Award virtual ceremony:
SOBC salutes this year's deserving President's Award nominees:
Barbara McLeod, SOBC – Oceanside
Darren Inouye, SOBC Region 5 Coordinator
Kailee Bowman, SOBC – Victoria
Marilyn Farquhar, SOBC – Langley
Paddi Robinson, SOBC - Surrey
Sally Masters, SOBC – Kimberley/Cranbrook
Tina Taylor, SOBC – Coquitlam
Past President's Award recipients:
Kendal Alston, SOBC – Victoria (2019)
Dorothy Franson, SOBC – Chilliwack (2018)
Joan Gerhardt, SOBC – Kelowna (2017)
Michael Maveety, SOBC – Kamloops (2016)
Margot Tubman, SOBC – Victoria (2015)
Helen Gaulin, SOBC – Fort St. John (2014)
Karen Theriault, SOBC – Surrey (2013)
Barb Tull, Region 4 Coordinator (2012)
Sheila Hogan, SOBC – Coquitlam (2011)
Patty Wheeldon, SOBC – Langley (2010)
Marlene Davison, SOBC – Surrey (2009)
Maureen Brinson, SOBC – Campbell River (2008)
Thom Ross, SOBC – Prince George (2007)
Debra Colvin, SOBC – Burnaby (2006)
Edna McCreight, SOBC – Port Alberni (2005)
Jennifer Benjamin, SOBC – Surrey (2004)
Dale Hanna, SOBC – Quesnel (2003)
May Wilson, SOBC – Vernon (2002)
Shaheen Khatami, SOBC – Richmond (2001)
Neville Askew, SOBC – Cowichan Valley (2000)
Darlene Kramp, SOBC – Courtenay/Comox (1999)
Jo Osborne, SOBC – Victoria (1998)
Joan Cox, SOBC – Terrace (1997)
Pam Sywulych, SOBC – Vancouver (1996)
Betty Timm, SOBC – Vernon (1995)
Yvon Savoie, SOBC – Courtenay/Comox (1994)
Cherald Tutt, SOBC – Kelowna (1993)
Flo-Elle Watson, SOBC – Victoria (1992)
Anne McCabe, SOBC – North Vancouver (1991)
Edie Burdett, SOBC – Vancouver (1990)