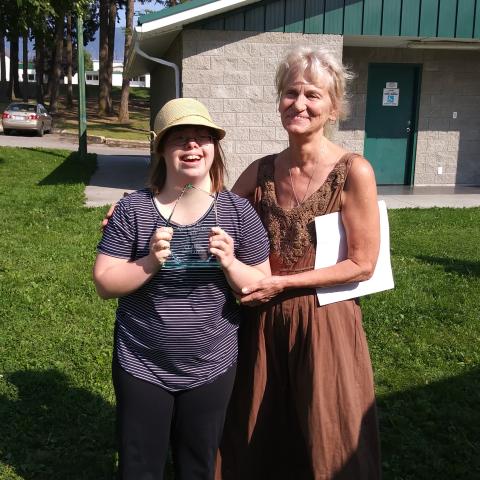 Special Olympics BC – Creston athlete Claire Lemaire has been making a difference and setting an inspiring example throughout her 12 years with SOBC. She is a valued multi-sport athlete who contributes positively to many SOBC – Creston programs and events. Claire is also an active athlete speaker, Health Messenger, and Athlete Reporter who spreads joy throughout her community and the province.
Claire constantly encourages athletes and coaches during swimming practices and always has a kind word for everyone she interacts with. She consistently demonstrates the attributes of dedication and team spirit with great listening skills, a willingness to tackle challenges, and a passion to give her best effort.
Outside her sport activities and events, Claire is a natural leader. She is polite and engaging with others and always allows them to express their views fully and completely. Her peers look up to her for positive support and encouragement. She has long been an active leader for SOBC fundraising events in her community, regularly making the time to help in local events and initiatives such as the Polar Plunge and Law Enforcement Torch Run.
Congratulations to Claire and to all of the deserving 2023 award nominees! 
SOBC looks forward to honouring all the deserving winners and nominees in a virtual awards ceremony on September 20, 2023 at 6 p.m. PT, helping open the next sport season with an inspiring celebration! Stay tuned for details!
MORE ON THE SPIRIT OF SPORT AWARD
LEARN MORE ABOUT SOBC'S PROVINCIAL AWARDS