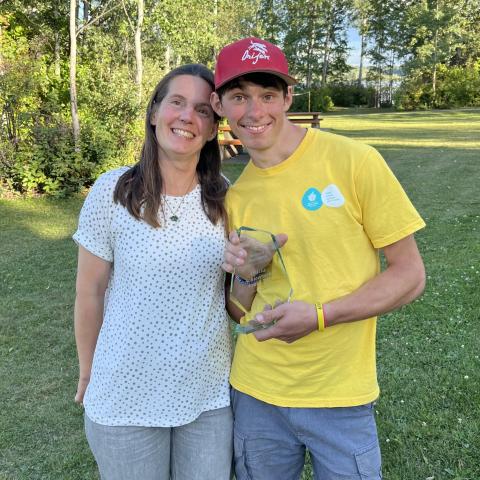 As a Special Olympics athlete for 11 years, Torben Schuffert has excelled in multiple sport competitions, and known for his hard work ethic. He is a dedicated athlete who trains year-round, participating in all the sports offered at Special Olympics BC – Smithers. His efforts and determination have led him to achieve multiple medals and personal bests in snowshoeing at Provincial and National Games.
Torben's athletic success is rooted in his outstanding work habits. He gives his all in training, including in workouts that are outside of his scheduled weekly practices. He sets long-term goals and continually pushes himself to achieve them.
Torben is a supportive and inspiring teammate on and off the field. He encourages other athletes who are less confident about their abilities to participate, helping build their confidence through positive interactions. He is also well-connected to the Special Olympics community on social media, sharing resources and promoting special events, courses, and workshops throughout the year.
Torben showed inspiring leadership by presenting an inclusion project called Shine Together at the 2023 Special Olympics World Summer Games in Berlin. This was a powerful moment for Torben, as he successfully represented Smithers, B.C., and Canada – and helped lead the way to a more inclusive world.
Congratulations to Torben and to all of the deserving 2023 award nominees! 
SOBC looks forward to honouring all the deserving winners and nominees in a virtual awards ceremony on September 20, 2023 at 6 p.m. PT, helping open the next sport season with an inspiring celebration! Stay tuned for details!
MORE ON THE ATHLETIC ACHIEVEMENT AWARD
LEARN MORE ABOUT SOBC'S PROVINCIAL AWARDS