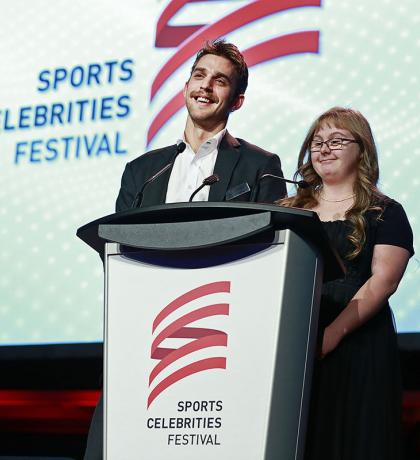 The 2016 Sports Celebrities Festival presented by Silver Wheaton turned the spotlight on the abilities of Special Olympics BC athletes and the power of sport, while raising vital funds for the Canucks for Kids Fund and SOBC.
As SOBC athlete speaker Frances Collison told the crowd, "In Special Olympics, people see Frances first, not Down syndrome with its challenges. They see Frances Collison and what she is capable of! Special Olympics unites and strengthens every one of us in this room."
Held on November 21 at the Vancouver Convention Centre, the 18th annual gala brought together more than 650 supporters along with SOBC athletes, the entire Vancouver Canucks roster, and other top B.C. sports celebrities for a meaningful and fun evening. This inspiring and interactive event has raised more than $4 million to date for SOBC and the Canucks for Kids Fund.
SOBC – Creston athlete Collison and Vancouver Canucks SCF ambassador Brandon Sutter brought the audience to their feet with their moving remarks. Sutter's cousin Chris and close family friend Mikey are Special Olympics athletes.
"Through Chris and Mikey I have seen firsthand how important Special Olympics is. The confidence and friendships that are built are so meaningful, and I'm very proud to be part of this special event tonight," Sutter said, before introducing Collison as a recent addition "to my list of athletes who inspire me."
Collison spoke powerfully about the fun, friends, and fame that Special Olympics has brought to her life, along with a healthy lifestyle and increased confidence and skills.
"When other people, who have the same disability as I have, see me doing Special Olympics sports that they think are impossible for them to do, they see hope. They hope that someday, they will be able to do that sport too, just like I do!" Collison said. "I think this happens for Brandon Sutter too. Lots of young hockey players look up to him and want to play hockey just like he does. We are role models both in our own way! This makes me feel proud. I feel so lucky to be part of something so special!"
Watch their speeches:
The Sports Celebrities Festival is one of a small handful of mandatory events for the Vancouver Canucks, which is a powerful symbol of respect for Special Olympics athletes. It was a privilege to have the entire Canucks roster once again participating in the event, with each player paired with Special Olympics athletes for the evening. The current players were joined by noted Canucks alumni Jyrki Lumme and Kirk McLean as well as coaches and management.
The event's roster of celebrities also included Olympic rowing medallists Gabe Bergen, Will Crothers, Lindsay Jennerich, and Patricia Obee; Olympic soccer medal-winning goalkeeper Stephanie Labbé and coach John Herdman; Olympic BMX racer Tory Nyhaug; Paralympic champion and B.C. Minister for Social Development and Social Innovation Michelle Stilwell; Vancouver Whitecaps FC midfielder Ben McKendry and President Bob Lenarduzzi; and BC Lions alumni Angus Reid and Jamie Taras.
The backing of the Canucks and all the participating celebrities sends a strong message of inclusion and dignity for individuals with intellectual disabilities. The generosity and kindness from all of the event's celebrities, sponsors, and participants is truly inspiring. 
The event also featured Sportsnet Central host Caroline Cameron teaming up with SOBC – Langley athlete Matthew Williams to serve as the stellar Masters of Ceremonies, and Canucks broadcaster Joey Kenward helped highlight the evening's celebrities. Canadian comedy icon Brent Butt cracked up the audience with his standup set and joined Kenward to moderate a Canucks Hockey Hotstove that gave direct access into the minds of the Canucks leadership group, with President of Hockey Operations Trevor Linden, General Manager Jim Benning, and Head Coach Willie Desjardins kindly taking the stage.
Throughout the night, guests bid on auctions and enjoyed games and activities while mingling with the celebrities, and TSN Radio Vancouver conducted live broadcasting from the event.
We thank all of the Sports Celebrities Festival sponsors, attendees, and supporters who give so generously each year. Our heartfelt gratitude goes to the SCF sponsors:
Presenting Sponsor Silver Wheaton;
Major Sponsors Canaccord Genuity and Macquarie Financial;
Event Sponsors Capilano Suspension Bridge Park, Home Hardware, J. Lohr Vineyards & Wines, lululemon, Palladio Jewellers, Silver Wheaton, and TD Bank Group; and
Media Sponsors Postmedia Network Inc., Rogers Sportsnet, and TSN Radio Vancouver.
And special thanks to the Vancouver Canucks!
Watch the Canucks TV coverage:
Watch the Breakfast Television Vancouver interview prior to the gala: