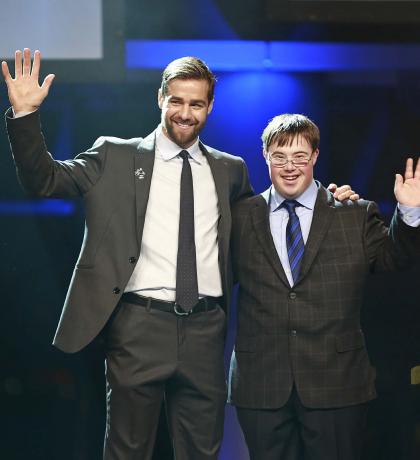 Amid an inspiring evening of support for Special Olympics BC and the Canucks for Kids Fund at the Sports Celebrities Festival presented by Silver Wheaton, the moving words of SOBC – Campbell River athlete Bryan Jorgensen and Vancouver Canucks forward Chris Higgins was a highlight that brought the crowd of 650 guests to their feet.
Chris shared his own family's experience with Special Olympics, watching and supporting his sister Jeanne as she has thrived as a Special Olympics athlete in New York.
"My sister was told she wouldn't walk, and through her own amazing efforts and the support of the amazing volunteers with Special Olympics, she has been playing soccer and swimming for 15 years now," Chris said.
Bryan was proud to follow up "my new friend and an awesome hockey player, Chris Higgins" as he told everyone what Special Olympics has meant to him.
"I became involved with Special Olympics when I was 15 and my family moved to Campbell River from Port Alice. When we lived in Port Alice I would go to all my brother's games and cheer him on. I loved to watch him play hockey but never thought I would ever get to do this as well," Bryan said.
"My first night at floor hockey in Campbell River showed me that I could do just as much as anyone else out there. I came home from my first practice and told my parents, 'I didn't know there were other people out there just like me.' It was so amazing for me. I am part of a group, part of a team!"
Watch Canucks TV coverage of Chris's family, including their thoughts on Special Olympics (starting at 2:06)
Through Special Olympics, Bryan developed better communication skills, confidence, and a love of sports and healthy living. He has learned how to play floor hockey and 5-pin bowling and now swims like a fish, leading him to offer a teasing challenge to Chris.
"If you would like to ask your sister to visit, I would be happy to race her in swimming," Bryan said, grinning.
The incredible generosity demonstrated by all the sponsors, auction donors, and guests of the 2013 Sports Celebrities Festival means a great deal to support the ongoing work of the Canucks for Kids Fund and SOBC and means a great deal to the SOBC community. We are also so grateful for the time and support we receive from the sports celebrities who give their time to the evening, including:
the entire Vancouver Canucks roster and coaching staff and Canucks alumni;
BC Lions Travis Lulay, Adam Bighill, Marco Iannuzzi, Ryan Phillips, Angus Reid, and Keron Williams;
Vancouver Whitecaps Jay DeMerit, Jordan Harvey, and Whitecaps legend Carl Valentine;
Olympic and world ski cross champion Ashleigh DeMerit; and
downhill mountain biking World Cup champion Stevie Smith.
The event also included outstanding MC work by CTV's Tamara Taggart and Canucks play-caller John Shorthouse, as well as the comic talents of Brent Butt. Throughout the night, generous guests also bid on auctions and enjoyed games and activities while CTV and TEAM Radio conducted live broadcasting from the event.
"With all your support this evening and throughout the year, athletes like me are able to reach our dreams and show the world our strengths," Bryan said. "I really want to thank everyone here tonight and the Vancouver Canucks for all their support."
The 24 other SOBC athletes who took part in the evening, all of whom are members of the Team BC 2014 Training Squad, were also paired with Vancouver Canucks players for the evening, and were thrilled by the experience of walking out on stage and dining with their hockey heroes.
"The memories will stay with me forever," one SOBC athlete wrote to his Canuck partner.
Now in its 15th year, the Sports Celebrities Festival has raised more than $2.8 million to support the life-changing programs of the Canucks for Kids Fund and Special Olympics BC, and we're so grateful that this year was another huge success. Our sincere thanks to our sponsors:
Presenting Sponsor Silver Wheaton;
Major Sponsors BCLC and Canaccord Genuity;
Event Partners Capilano Suspension Bridge Park, J. Lohr Vineyards & Wines, Nintendo of Canada, Okanagan Spring Brewery, Palladio Jewellers, Silver Wheaton, and TD;
Media Partners CTV and TEAM Radio; and
National SCF Sponsors Canada Life, Home Hardware, Staples Canada, and Wolseley Canada.