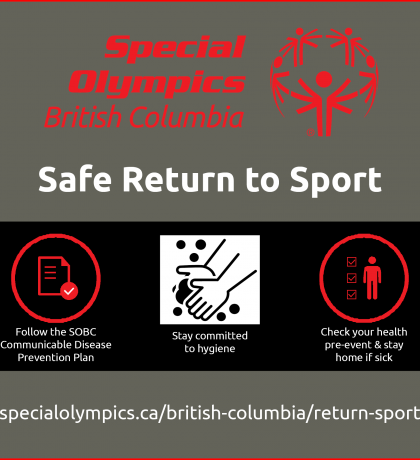 After careful consultation with community members and sport, health, and legal experts, Special Olympics BC has removed the COVID-19 vaccination requirement for all programs, competitions, and events, effective July 1, 2022. All the other strong safety protocols in the SOBC Communicable Disease Prevention Plan remain in place. 
We must all renew and strengthen our commitment to following these hygiene and safety protocols. We know that some of our community members are more at risk from COVID-19. It is vital for each of us to play our part in following these protocols, ensuring a safe environment for everyone to participate. 
The protocols are in place to protect us not just from COVID-19, but from all communicable diseases long term. Following the plan will ensure high-quality environments and set a strong foundation for safe operations now and into the future. 
Coaches and volunteers are being asked to emphasize the Communicable Disease Prevention Plan in all programs and events.
We thank all members for staying strongly committed to safety, and respecting each other's choices.
Reminder of standards for masks:
It is recommended (but not required) for all participants ages 5 and up to wear masks at SOBC events and programs when they aren't playing their sports.
Participants ages 5 and up must still wear masks during group transportation to SOBC programs and events (e.g. rented buses). 
If a facility requires mask wearing while off the field of play, that rule must be followed.
SOBC will reserve the right to make masks mandatory in certain situations, if required to ensure the safety of all participants.
If you are sick, do not attend your SOBC program/event.
Wash or sanitize hands when entering and exiting the venue, and often during the program/event.
Cover coughs and sneezes with your sleeve. Avoid touching your face with your hands.
Bring your own filled water bottles whenever possible.
Continue practicing physical distancing when it's helpful to you.
We thank all members for their continued dedication to maintaining a safe and welcoming environment in all SOBC programs and events.