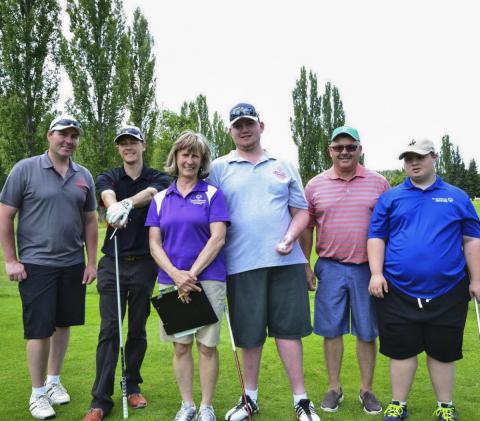 Special Olympics BC – Invermere athlete Andrew Galligan said participating in a Regional Qualifier for the first time was a "fun and satisfying" experience.
Galligan said he was "surprised and honoured" when his coach asked him to compete at the Aquatics Regional Qualifier for Region 1 hosted by SOBC – Kimberley/Cranbrook. While Galligan said he was a little nervous at first, he set many personal bests at the event and said it was a great feeling to swim while the crowd cheered him on.
July's golf and bocce competitions wrapped up the 2016 season of summer-sport Regional Qualifiers, where SOBC athletes competed in 50 events across the province – the most in SOBC history! Locals around the province hosted exciting competitions in 5- and 10-pin bowling, powerlifting, soccer, rhythmic gymnastics, basketball, athletics, softball, and swimming.
With the support of dedicated volunteers and coaches, SOBC athletes gave their all as they thrilled spectators, created friendships, and competed to qualify for the 2017 Special Olympics BC Summer Games.
This season saw SOBC – Mackenzie send an athlete to a Regional Qualifier for the first time, with Stuart Baker competing in the Golf Regional Qualifier for Region 8 hosted by SOBC – Quesnel.
Kris Baker, Stuart's father and coach of SOBC – Mackenzie's golf team, said the qualifier was an excellent experience and provided the athletes with many great social opportunities.
Baker said it was great to interact with coaches and athletes at the qualifier. His most memorable moment was when all the athletes came together for a group photo.
"You see all their personalities come out," Baker said. "You see the ones who try and hide and you see the ones who ham it up for the camera."
Along with having a great time meeting athletes from around Region 8, Stuart finished second in his division.
"He was stoked!" Baker said. "The first day he won a door prize so he was happy about that, the next day he won a ribbon and he was totally pumped about that."
Along with hosting the Regional Qualifier, Quesnel Golf Club also hosted a best ball tournament for SOBC athletes who were not ready to participate in a competitive event. Baker said this added to the weekend's inclusive atmosphere.
"I really can't say enough about the owners of the golf club and how they support Special Olympics," said Baker.
Baker said the tournament had a fun, relaxed atmosphere. He is grateful to SOBC – Quesnel for hosting the qualifier, and to the athletes, volunteers, and coaches who made the event so great with their participation.
Coast Reporter story on the Golf Regional Qualifier for Regions 4 and 5
The successful Bocce Regional Qualifier for Region 6 hosted by SOBC – Oceanside saw 128 athletes compete in the biggest bocce tournament SOBC has ever held. SOBC – Oceanside did a phenomenal job of hosting the qualifier, which included training more than 25 hardworking volunteers prior to the event.
The success of the qualifier illustrates how much bocce has grown in Region 6 and across the province. This season's event was more than twice as big as 2012's Bocce Regional Qualifier for Region 6, in which 57 athletes participated.
Parksville Qualicum Beach News coverage
Although a number of Regional Qualifiers got drenched with rain this year, SOBC athletes powered through without complaint. Many coaches commented on how well athletes responded and competed with determination despite these rainy conditions.
As we look forward to the 2017 Special Olympics BC Summer Games, we would like to thank all the amazing coaches, volunteers, and supporters who made this season of summer-sport 
 a huge success. Congratulations to all the athletes who competed with pride and achieved so much!