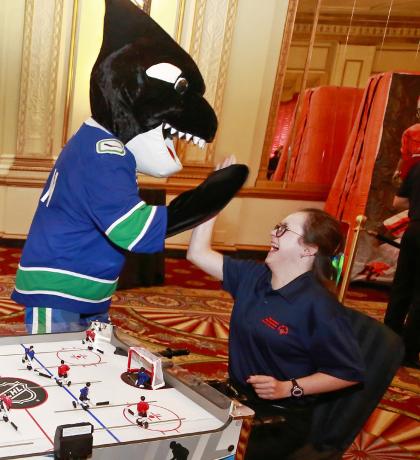 A big stick tap to our friends at the Canucks for Kids Fund for setting us up with a huge assist!
The Canucks for Kids Fund has provided Special Olympics BC with a grant of $167,000. This generous total is to offset any loss in revenue the 2020 Sports Celebrities Festival presented by Wheaton Precious Metals may experience due to COVID-19 restrictions.
The pandemic has had a profound effect on Special Olympics BC's fundraising initiatives. Many of SOBC's in-person fundraisers have needed to be cancelled, postponed, or modified to meet social distancing guidelines. As a result, securing funds to support our empowering programs has become more important than ever.
A major fundraising event, the Sports Celebrities Festival has raised more than $5.5 million over the last two decades to support the critical work of the Canucks for Kids Fund and Special Olympics BC. Normally an interactive gala, this year's event will need to be reimagined because of restrictions related to COVID-19. Please stay tuned to SOBC communications channels for news on the 2020 SCF.
The Canucks for Kids Fund is a longstanding friend of SOBC, and co-recipient of the Sports Celebrities Festival. The Canucks for Kids Fund is dedicated to assisting charities that support children's health and wellness, foster the development of grassroots hockey, and facilitate and encourage education in British Columbia. Their three core beneficiaries are the Canucks Autism Network, Canuck Place Children's Hospice, and the BC Children's Hospital Foundation. This year they also provided grants to more than 20 additional B.C. charities, including many that offer COVID-19 relief support to families and seniors.
We are extremely grateful to the Canucks for Kids Fund for their ongoing friendship and for helping us create life-changing opportunities for SOBC athletes throughout the province!