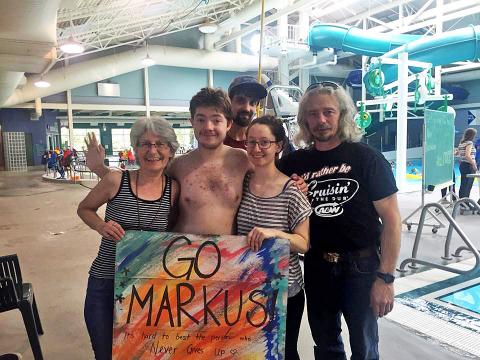 Athletes competing at the Basketball Regional Qualifier hosted by Special Olympics BC – Campbell River were part of a major milestone for SOBC.
"This was the first Basketball Regional Qualifier to take place on Vancouver Island," SOBC Region 6 Coordinator Jean Tetarenko said. "As stated to everyone present, they were part of making history for basketball within Region 6."
A total of five teams participated in the great event on February 13, with players representing SOBC – Campbell River, Victoria, Nanaimo, and Port Alberni.
Michael Cam is a point guard on the Nanaimo team. Cam is a big basketball fan, and was excited to play in the tournament.
"At first I was nervous — this was my very first game, very first tournament, and everything was new to me. I thought it was cool to be able to play in a tournament," Cam said.
Along with being a part of a milestone for basketball on the Island, athletes at the qualifier had the opportunity to apply their skills and training in competition. At the 2016 SOBC Regional Qualifiers, athletes are competing for the opportunity to participate in the 2017 Special Olympics BC Summer Games.
"Basketball is growing within the region, but until this year most teams had not had a chance to compete against other teams," Tetarenko said. "However, this year was a great opportunity for all programs, as in addition to hosting the qualifier, Campbell River hit the road to provide game opportunities by travelling to both Port Alberni and Victoria to have practice games in those Locals. In Victoria, the teams shared a fantastic game in the brand-new University of Victoria CARSA gym supported by the UVic Vikes."
Tetarenko is excited about the progress basketball has made on the Island and sees a lot of potential for the future. She hopes the Regional Qualifier in Campbell River will serve as another big step in basketball's ongoing growth in the region and the province.
"I coached for one season with Victoria's program and seeing the development within the athletes in just a few years is incredible. And this is evident across the region. This is a real testament not only to the hard work of the athletes, but also to the high calibre of the coaches," Tetarenko said.
The 2016 season of summer-sport Regional Qualifiers has already seen thrilling competition in a variety of sports. In addition to the Basketball Regional Qualifier for Region 6, SOBC – Mission and North Shore hosted 5-Pin Bowling Regional Qualifiers for Regions 3 and 5, respectively; SOBC – North Shore and Prince George hosted 10-Pin Bowling Regional Qualifiers for Regions 5 and 8; and SOBC – Vancouver hosted the Swimming Regional Qualifier for Region 5.
As the season continues, SOBC athletes will celebrate more firsts. SOBC – Prince George will host another first-ever Basketball Regional Qualifier in the North, and Kelowna and Fort St. John will host their first-ever rhythmic gymnastics qualifiers.
It takes a lot of hard work from volunteers, coaches, and athletes to make Regional Qualifiers successful, and so far this year's qualifiers have set excellent examples.
"Campbell River were wonderful hosts, and volunteers went out of their way to make sure the athletes had what they needed to compete at their best," Tetarenko said.