Summerside Luncheon, in support of the Special Olympics Festival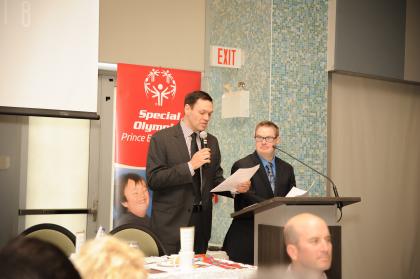 Summerside Luncheon
Please join us for the 2019 Summerside Luncheon in support of the Special Olympics Festival.
The Luncheon is taking place on Tuesday, June 25th, at Credit Union Place in Summerside is hosted by Special Olympics athlete Paul Phillips. The Summerside Luncheon includes lunch with special celebrity guests and a chance auction.
Join Us!
Corporate tables for the luncheon can be purchased for $300. Individual tickets are also available for $40 each. Again this year, if you are unable to personally attend the Luncheon, you can still support the event by purchasing tickets for athletes / caregivers to attend.
If you would like to join us for the Summerside Luncheon, or if you would like to donate an item to our chance auction, please contact Charity Sheehan, Executive Director by calling 902-368-8919 or emailing csheehan@sopei.com.  You can also reserve your tickets directly by completing and returning our Summerside Luncheon Fax Back Form. 
Sponsorship opportunities are also available for this event. To learn more please contact Charity Sheehan, Executive Director, at csheehan@sopei.com. 
Thank You to Our 2018 Event Sponsors
A heart felt thank you to the wonderful businesses and individuals who make this event possible.