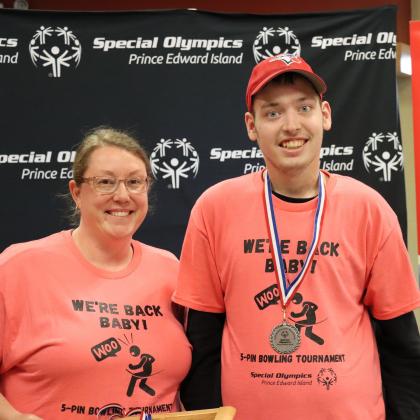 Each May, Special Olympics PEI brings its nine bowling programs together for the two day 5-Pin Bowling Provincial tournament.
Special Olympics PEI Bowling Provincials
5-Pin Bowling is Special Olympics PEI's most popular program. The Bowling Provincials see over 250 athletes, coaches and volunteers enjoy a great competitive weekend with bowling being the spotlight.
Although the focus is on competing, athletes and coaches also have the opportunity to meet fellow competitors and take part in a Special Olympics dance. To make sure that every Special Olympics PEI athlete that participates in bowling has the opportunity to compete in the 5-Pin Bowling Provincials, the cost to each athlete is minimal.
Supporting the 5-Pin Bowling Provincials
Your sponsorship will be supporting Special Olympics athletes and helping to offset the cost of the Bowling Provincials, which costs approximately $21,000 for the two day event. There are two ways you can help support the 5-Pin Bowling Provincials:
Community Sponsor
Your $500 Donation will help to ensure that athletes in your community are able to participate in the 5-Pin Bowling Provincials.
Event Sponsor
Event sponsorships vary in size and type. If you wish to support the 5-Pin Bowling Provincials at this level, please contact us.

Want more Information?
For more information on supporting the 5-Pin Bowling Provincials, and to discuss the benefits of sponsorship, please contact Charity Sheehan, Executive Director, by calling 902-368-8919 or by emailing csheehan@sopei.com.