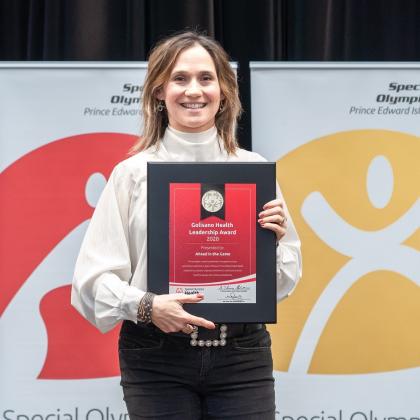 Special Olympics Health, made possible by the Golisano Foundation, is working to ensure Special Olympics athletes can perform at their best, on and off the field, and have equal access to quality health care, health education and resources.
Healthy Communities is a model Special Olympics Health program addressing the severe health disparities faced by people with an intellectual disability through immediate and long-term community-based solutions. 
Special Olympics PEI is proud to be leading a Healthy Communities program and is striving to improve access to quality health care and preventative health education for people with an intellectual disability through the engagement of partners, government and health care professionals. Some of the ways we are able to accomplish these goals are through Healthy Athlete programs and empowering our athlete Health Messengers who align with the vision and mission of this Healthy Communities work.
For more information on Health barriers, check out this Health and Intellectual Disabilities Overview:
The goal is to make the Healthy Communities program sustainable with system change and ongoing support individuals can rely on. If you would like more information or are interested in supporting this program on PEI, please contact our office by calling 902-368-8919.
Resources