Athlete Leadership prepares athletes for roles as Athlete Speakers, Program Mentors, Health Messangers, or members of Committees or Input Councils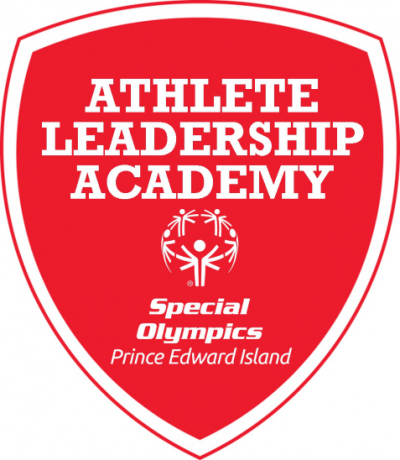 Special Olympics PEI athletes are thriving on and off the playing fields. In 2020, Special Olympics PEI launched an Athlete Leadership Academy! The Special Olympics PEI Athlete Leadership Academy is an opportunity for Island athletes, beyond sports training and competition, to gain knowledge and experience in a number of workshops and electives. As athletes explore and complete these opportunities, it is our goal that it will build community and empower members to reach their full potential. Athlete Leadership also provides another way for athletes to showcase and utilize their talents, interests, and expertise.
Athlete Leadership Academy
Learn more about the Athlete Leadership Academy: 
History of Athlete Leadership
Athlete Leadership started in Canada as a National Ambassador Program (Speakers Workshop) in 2010. Since this time many chapters, including PEI, have offered a wide range of courses/modules and are continually finding new opportunities to empower athletes in the organization and their communities.
If we want a more inclusive organization and accepting world, Special Olympics athletes must be allowed and encouraged to contribute in ways beyond the sports field. One of the most powerful ways we do this is through Athlete Leadership, which creates opportunities for people with intellectual and developmental disabilities (IDD) to develop and demonstrate their abilities in leadership roles both inside and outside the organization.
Athlete Leadership programs partner with people with IDD (Special Olympics athlete leaders) to provide opportunities for success in meaningful leadership roles. This is done by training providing knowledge and skills, practical experience in roles of responsibility, and working with leaders without IDD to develop inclusive environments.
The Athlete Leadership Academy will equip athletes with the tools to undertake positions of leadership within their community and the broader movement. There will be workshops and electives offered to any interested member and their leadership mentor.
Athletes and Mentors who complete electives will receive certificates for their training and gain valuable skills they can apply to their leadership journey.
Athletes and Mentors may choose to complete a workshop in a focus area that will be meaningful for the athlete, Special Olympics PEI, and their community. Following the workshop, they have the opportunity to sign an Academy Commitment form and become members of the Leadership Academy for a set term in one of the following roles: Public Speaking, Health Messenger, Athlete Input Council, or a Peer Mentor. A description of these potential roles are listed in more detail later in these terms. These roles give athletes a voice in shaping the Special Olympics movement, and a chance to spread the word about the transformations Special Olympics can bring to individuals and families.
What can Athlete Leadership do for you?
Build Confidence
Self Respect; Self-Worth; Facing Fears
Provide Knowledge
Public Speaking; Technology; Leadership; Community Advocate
Develop Social Skills
Teamwork; Communications; Friendships / Networking
Share Transferable Skills
Goal Setting; Role Model; Writing
Sign Up Today
Sign up for the Athlete Leadership Academy today by submitting the Athlete Leadership Academy Application Form.
Available Workshops
Speaker Workshop                                                       
Provides an opportunity for Special Olympics Athletes to develop public speaking and speech writing skills. This course will give tools to enhance an athlete's poise and self-confidence while standing at a microphone or podium. This course is ideal for athletes who have an interest in educating others about the Special Olympics movement, as well as their own personal story, in a public setting. It is ok if you are not comfortable speaking to crowds, so long as there is a desire to learn and practice the skills you will learn.
Profiles of our active Athlete Speakers
Health Messenger    

                                
Empowers Special Olympics Athletes to develop healthy lifestyles, influence other athletes to lead healthier lives, advocate within their communities for inclusion around health and wellness services, education and resources, and advocate for the health needs of people with IDD. Health Messengers choose a focus area and serve as health and wellness leaders, educators, advocates, and role models.
Profiles of our active Health Messengers
Committees or Councils          
Provides Special Olympics Athletes with the tools on how to effectively receive and give feedback on issues that come up in their local program; serve on the local management team or be a part of a committee or subcommittee in or outside of Special Olympics. This workshop will prepare athletes about governance structures and how to participate in Special Olympics programming and policy conversations by forming and sharing opinions and group discussion. Equally important is the enhancement of awareness and listening skills of volunteers, staff and family members as they interact with athletes during this training.
Peer Mentor 
Provides Special Olympics Athletes training to take on leadership opportunities, in the sport they were once active in, as a mentor to other Special Olympics Athletes in that sport. The term "Peer Mentor" refers to an athlete who actively assists the head coach and the assistant coaches at weekly practice, training, and/or competitions and helps mentor other athletes to reach their goals. A Peer Mentor provides the sport program with additional quality expertise to enhance athlete performance. These positions require great communication with other athletes so that they understand what you are explaining and cooperation with coaches in their sport program.
Athlete Leadership Academy Elective Workshops
Intro to Athlete Leadership
Provides an overview of Special Olympics and Athlete Leadership opportunities and is a prerequisite for enrolling in an Academy Workshop.
Social Media 

                                                                                      
Provides knowledge and skills on general usage, safety, best practices, and appropriate and effective use of social media platforms (i.e. – Facebook and Twitter) for Special Olympics Athletes. Athletes will also learn how to capture, share and promote their story, as well as connect to Special Olympics, through these various social media platforms.
Anti-Cyber Bullying                                                                          
Bullying hurts everyone. This free workshop is ideal for helping athletes and coaches keep our practice and competitive environments safe, respectful, encouraging, and fun for all!
Healthy Relationships
During this program, participants will explore the many questions related to romantic relationships, family, friends, and those in our community. This program will explore topics such as signs of unhealthy relationships, independence and identity, and sexuality. Participants are encouraged to ask questions and share their own experiences and stories with their peers. There are sessions that have content and language for 8-13 year old athletes and another for 14+ year old athletes.

Other development opportunities and partnerships that align with the athlete leadership values and goals will be promoted and made available as they are developed.