The Law Enforcement Torch Run raises funds and awareness for Special Olympics.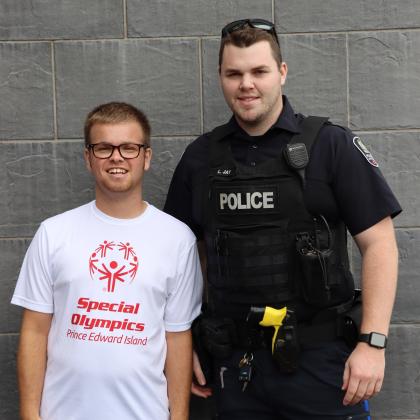 Known as Guardians of the Flame, law enforcement members and Special Olympics athletes carry the Flame of Hope™ into the Opening Ceremonies of local competitions. The flame symbolizes courage and celebration of diversity uniting communities around the globe.
LETR is changing the future for people with intellectual disabilities. Through the LETR and Special Olympics partnership we are lighting the way for acceptance and inclusion.
About LETR PEI
To learn more about the PEI's LETR mission, values, to check out upcoming events and stay connected, visit their Website and follow their Facebook Page
PEI's Law Enforcement Torch Run – made up of members across 10 agencies on the island in 2020 – raises thousands of dollars for Special Olympics PEI programs each year. They have been an active partner of Special Olympics PEI for more than 25 years (since 1991) and have raised over $275,000 to enrich the lives of Island athletes.
From Polar Plunges to Truck Convoys, and other annual events, representatives from these agencies have come together, dedicating their personal time to fund-raise & support Special Olympics Prince Edward Island athletes. They are helping create more inclusive communities! Anyone can participate in their LETR fundraising community events.
Agencies currently represented: Atlantic Police Academy, Charlottetown Police Services, Conservations, Corrections, Youth Justice Services, Highway Safety, Parks Canada, RCMP, Summerside Police Services, UPEI Security Services.
LETR Around the World
An international organization, the Law Enforcement Torch Run (LETR) is the largest public awareness and grassroots fundraising organization for Special Olympics globally.
The Torch Run™ itself is an event in which officers run the Flame of Hope™ into an Opening Ceremony at local, national and world competitions.
As retired Chief Richard LaMunyon once said, "What started …as a flicker of hope for Special Olympics has now become a roaring flame of stability for Special Olympics athletes worldwide."
History of LETR in Canada
The LETR program first began in Wichita, Kansas in 1981. Toronto police officers Chief Jack Marks (Ret'd) and Lorne White (Ret'd) successfully organized the first Torch Run on Canadian soil in Toronto in June 1987. More than 1,100 LETR officers from 36 agencies took part in the event, covering more than 900 kilometers before arriving into Varsity Arena in Toronto to light the flame, signaling the opening of the International Special Olympics Floor Hockey Tournament.