Please call, e-mail, or write to us at Special Olympics PEI!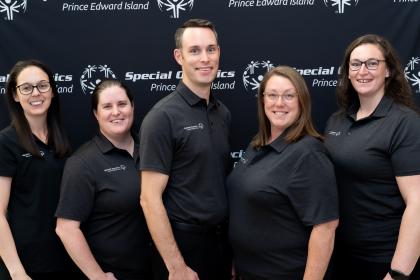 Provincial Office
Special Olympics PEI
40 Enman Crescent, Room 240
Charlottetown, PE C1E 1E6
Canada
1-902-368-8919
1-800-287-1196 (toll free)
sopei@sopei.com
Special Olympics PEI Staff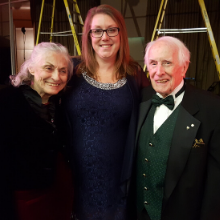 Executive Director - Charity Sheehan
In December of 2013, Charity was appointed Executive Director of Special Olympics PEI.  She started her involvement as a volunteer coach in 1997 and in 2001 started her career with Special Olympics PEI as Program Director.  Charity is a graduate of the Holland College Sport & Leisure Management Program and remains active with the program through an advisory committee.  Charity has attended numerous multi-sport games over the past two decades including being mission staff at three Special Olympics World Games and two Canada Games.  She has a passion for coach development, policy management and an overall love of sport.
Charity's primary areas of responsibility are:
Organization Development - Strategic Planning, Fiscal Management and Partnership Development, including Law Enforcement Torch Run
Fund Development - Events, Stewardship and Partnerships
Risk Management  - Policy Development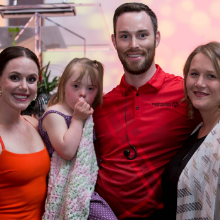 Program Director - Matthew McNally
Matthew has been working in the field of sport and recreation since graduating from the University of New Brunswick in 2010 and he has been working in his role as Program Director since September 2014. His role includes working with a team that focuses on enhancing Competition, Coach Education, Athlete Leadership, Healthier Communities and the development of Sports Programs for all ages. Matthew's sport of choice is basketball, where he is a National Officials Certification Program Level 3 basketball official. Matthew's daughter, Norah, is an Active Start athlete. 
Matthew's primary areas of responsibility are:
Health and Wellness Project Management
Sport and Program Management 
Athlete Leadership Program
Provincial Team Program (Team PEI)
Database Management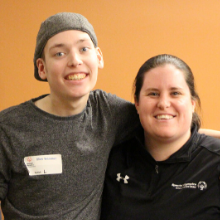 manager - Sport & competitions - Genna Phelan
Genna started with Special Olympics PEI in November 2011 as Program Coordinator following the completion of her education, which includes a Sport and Leisure Management Diploma from Holland College, a Bachelor of Sociology and a Bachelor of Education, both from UPEI. Sport has always played an important role in Genna's life. Having played everything growing up, she still plays softball and hockey today, and coaches high performance hockey. Genna has been to 3 Canada Games, once as a trainer and twice as a coach in women's hockey.
Genna's Primary areas of responsibilities Are:
Sport Program Development
Coordinate, Promote, and Implement a Year Round Sports Training Program 
Technical Lead on all Special Olympics PEI Sport Events - Rules, Scheduling, Procedures and Policies
Program Coordination - Coaches, Program Volunteers, Venues, Equipment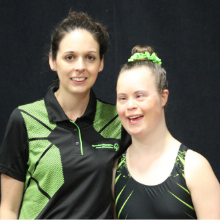 manager - communications, fund development, schools & youth - Sarah Profitt-Wagner
Sarah first worked for Special Olympics PEI through an internship program for new university graduates in 2011. Following the internship Sarah took the opportunity to work overseas and do some travelling, which, along with sport, is one of Sarah's major passions. Upon returning to Canada in late 2014 Sarah began volunteering with Special Olympics PEI. Shortly thereafter Sarah accepted the position as Membership Services Coordinator. Sarah is a graduate of McGill University. A former competitive Rhythmic Gymnast, Sarah played a role is bringing the sport to Special Olympics PEI and is a volunteer coach with the Charlottetown Rhythmic Gymnastics program. 
Sarah's Primary Areas of Responsibility Are: 
Youth Development - School Partnership Programs, Unified Bocce, and Community Youth Programs
Social Media & Communications
Fund Development - Events, Partnerships, and Donor Stewardship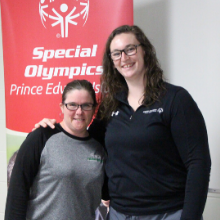 sport developer - Ellen Murphy
Ellen first joined the Special Olympics PEI team as a summer student in 2017 after graduating from the BScHK program at the University of St. FX. The following summer Ellen rejoined the team while simultaneously completing the internship for her Master's. Since completing her Master's in Human Kinetics with a concentration in Sport Management from the University of Ottawa in  December 2018 Ellen has joined the team full time, as the Health and Membership Management Coordinator before transitioning to Sport Developer. Ellen has been involved in sport from a young age playing a number of sports over the years, and continues to be involved in rugby as an athlete, coach and volunteer.
Ellen's Primary areas of responsibilities Are:
Sport Development and Virtual Programming and Health Athletes
Volunteer and Athlete Management
Database Management
Subscribe to our mailing list