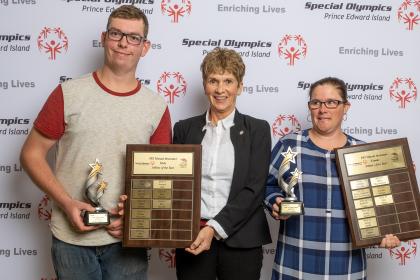 Each Fall Special Olympics PEI holds an awards ceremony to celebrate and honor the achievement of our athletes, coaches, volunteers, parents, caregivers and supporters.
Special Olympics PEI Awards
Special Olympics PEI is proud to honor our members. We have amazing athletes, coaches, and volunteers, all of whom contribute to helping the Special Olympics movement thrive.
2018-2019 Awards Recipients
PEI Mutual Insurance Company Female Athlete of the Year
PEI Mutual Insurance Company Male Athlete of the Year
Maritime Electric Female Coach of the Year
Maritime Electric Male Coach of the Year
Facility of the Year
Island Gymnastics Academy
David Andrew Memorial
Department of Health and Wellness Sport Volunteer
President's Award
Dr. Frank Hayden Award
ADL Spirit Award
Volunteer Pins
Volunteers who have contributed 10, 15 and 20 years of service to the Special Olympics movement are also honored:
5 Years
Sarah Profitt - Wagner, Craig Watson
10 Years
Jamie Arsenault, Brad Colwill, Paul Smith, Terry Nabuurs, Leah Watts
15 Years
Donna Campbell, Michele Chapman, Barry Murray
Recognition at the National Level
Special Olympics PEI athletes and volunteers have been recognized on a national level by Special Olympics Canada (SOC). We are very proud of our national award winners:
2019 Dr. Frank Hayden Lifetime Achievement Award
2018 SOC Female Athlete of the Year
2017 Frank Selke Fundraising Volunteer of the Year
2015 SOC Female Coach of the Year
2013 SOC Female Athlete of the Year
2012 SOC Team of the Year
2011 SOC Female Athlete of the Year
2011 SOC Team of the Year
2008 Jim Thompson Award
2005 SOC Team of the Year
PEI Stars Floor Hockey Team
2004 SOC Team of the Year
2002 Jim Thompson Award
2000 SOC Female Athlete of the Year