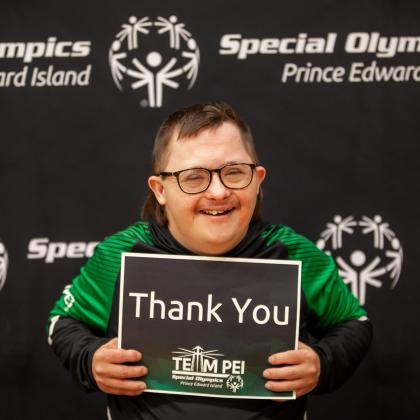 The Team PEI Booster Club is a great way for smaller businesses, organizations, or individuals to show their support for Team PEI.
Join the Team—Join the Team PEI Booster Club
The Team PEI Booster Club allows local businesses and individuals to sponsor athletes and / or coaches in their communities. Sponsorship of the Team PEI Booster will showcase your support for Special Olympics PEI and will help offset the cost of these Games.
Athlete Benefits
When given an opportunity to experience the thrill of competition at a Special Olympics National event, words cannot describe the positive impact this has on an athlete and their family. Through competition, these athletes gain self-esteem, confidence and strength, which benefits all aspects of their lives.
By supporting the Team PEI Booster Club, you are giving our athletes the full National Games experience, including staying in an athlete's village while attending Games, the opportunity to participate in opening and closing ceremonies, high caliber athletic venues with qualified officials, access to social and Healthy Athletes events, and memories that will last a lifetime.
Donor Benefits
As a thank you for your donation to the Team PEI Booster Club, you will receive the following recognition:
An invitation to the Team PEI Pep Rally
A certificate acknowledging your support
A charitable tax receipt
Join the Team PEI Booster Club Today!
If you would like to show your support for Team PEI 2024 by joining the Booster Club please call the Special Olympics PEI office at 902-368-8919 or email swagner@sopei.com.
If you prefer to make an online donation directly please follow this link: Make a Donation to the Team PEI Booster Club