Sharing the joy of sport at all levels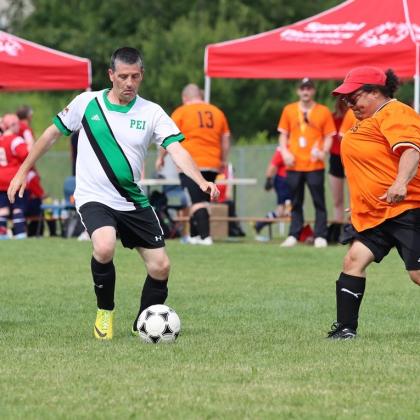 Special Olympics Programs
Special Olympics PEI offers all Islanders with an intellectual disability access to sport. We provide an introduction to sport and physical activity, programs that offer daily training and local competition, and the opportunity to participate in high performance competition. There is something for athletes of all ages and ability levels. Special Olympics PEI has over 100 sports programs, running weekly, in communities across PEI.
Special Olympics programs are divided into two streams: Community and Competitive
Community Sport
Community sport are recreational sports programs for all athletes (ages 2+), regardless of ability or experience. These programs run once a week, for one hour, in communities across PEI.
Active Start
Active Start is designed for children aged 2 to 6 with an intellectual disability. This fun program uses colorful activities and movements in a close setting. Children learn basic motor skills in small groups, helping them grow and become more confident in their movements. Children learn to throw, catch, jump, skip, and much more. Parents / guardians work one-on-one with their child while being led by a head coach. Programs run once a week for one hour. Learn more about Active Start.
FUNdamentals
FUNdamentals is designed for children aged 7-12 with an intellectual disability. FUNdamentals is a skills specific training program. Children are taught basic sport motor skills in a fun atmosphere. Athletes learn basic rules of sport like softball, basketball, and soccer. FUNdamentals also teaches children cooperation and social skills, along with nutritional information.  The many benefits of this program include building trust, feelings of accomplishment and making new friends. FUNdamentals programs are run by a head coach and program volunteers. Programs run once a week for one hour.  Learn more about FUNdamentals.
Youth Multi sport
This NEW Youth Program offers an introduction to a variety of Special Olympics sports, in a recreational, non-competitive environment. Sports being considered for the program include soccer, basketball, bocce, and athletics. This program was launched in October 2016, and interested athletes are volunteers are being recruited for this exciting new opportunity.  
Adult Programs
Adult community sport programs are for athletes at least 13 years of age. This program emphasizes basic motor skills, basic sport skills and basic sport rules. Athletes follow 5-8 week modules as an introduction to Special Olympics PEI's official sports. From here, athletes have the opportunity to advance to Competitive Sport programs.
Competitive Sport
Competitive sport programs are for athletes at least 13 years of age. This program emphasizes basic to advanced sport skills and rules.  Special Olympics PEI offers athletes the opportunity to train and compete in a variety of sports at events on- and off-Island, right up to the International level.
Learn more about the Competitive Sports offered by Special Olympics PEI.
Join Today!
The first step to become an athlete with Special Olympics PEI is to review our  updated Registration Processes and Resources. If you have any questions or concerns, or if you would like additional information, please feel free to call the Special Olympics PEI office at 902-368-8919, or email sopei@sopei.com.