Our Signature Fundraising Event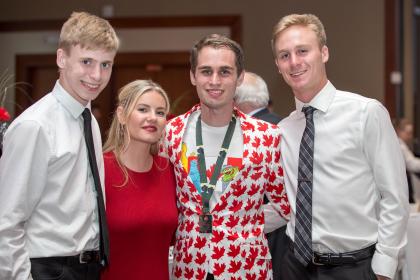 Special Olympics PEI invites you to help us celebrate the 30th Anniversary of the Enriching Lives Gala Dinner & Auction!
The Enriching Lives Gala is Special Olympics PEI's signature fundraising event. This year's Gala will take place Tuesday, June 22nd, at the Delta Prince Edward by Marriott Hotel, and will follow all COVID-19 Public Health Guidelines.
Please see our Frequently Asked Questions page for additional information about our Enriching Lives Gala. 
Supporting the 2021 Enriching Lives Gala
If you are in a position to support Special Olympics PEI at this time, we invite you to consider the following ways you can support the 30th Anniversary of the Enriching Lives Gala:
Purchase a Gala Table of 6
Tables of 6 are available for purchase for $650. Tables can either be corporate or can be bought by an individual to be filled at their discretion. Please note, due to COVID-19 restrictions, individual tickets sales are not available at this time.
To purchase your Gala Table of 6 please contact Charity Sheehan, either via email at csheehan@sopei.com or by calling 902-368-8919. 
Donate an Item to our Online Auction
This year's Silent Auction will again be hosted online. Online viewing and bidding on all Silent Auction items will begin June 8th, 2 weeks prior to the Gala, on our Enriching Lives Auction custom website.
To donate an Auction Item, please contact Charity Sheehan, either via email at csheehan@sopei.com or by calling 902-368-8919. You can also make your donation online via our Auction Donation Form.  
Purchase a Virtual Ticket
The 2021 Enriching Lives Gala is a hybrid event - giving supporters, including those off Island, the chance to tune in virtually for a portion of the Gala. Virtual tickets are now on sale for $30 each, and can be purchased online: Reserve Your Virtual Tickets.
Your Support Matters this Year, More than Ever! 
The last year has been a challenging time for our athletes. Our in person programs were temporarily paused, leaving our athletes without one of their most anticipated events each week. We quickly moved our programs virtual, giving our athletes the opportunity to not only stay active, but to also connect with their peers at a time when restrictions limited gatherings and movement.  We are thrilled to say that over 95% of our in person programs are now up and running. While this is something to celebrate, we still have work to do, as only approximately 35-40% of our athletes have returned to in-person programs, for a variety of reasons, including restrictions where they live and varying levels of comfort. To continue reaching all athletes, our virtual programs are still going strong.
ENRICHING LIVES AUCTION
The Enriching Lives Gala includes both a Silent & Live Auction. These auctions are essential to the success of the event, accounting for over 38% of the total amount raised. Throughout the evening Gala guests, including our celebrity guests, will have the change to bid on an exciting lineup of donated auction items. 
Once again in 2021 we will be hosting our Enriching Lives Auction online on our Enriching Lives Auction website: 
Thank You to our 2021 Enriching Lives Gala Sponsors
A heart felt thank you to the wonderful businesses and individuals who make this event possible: