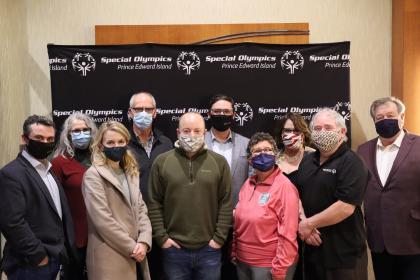 Special Olympics PEI is governed by a volunteer Board of Directors operating under the Carver Model of governance. 
Directors are elected for two year terms at the Annual General Meeting.
If you are interested in knowing more, please contact Executive Director, Charity Sheehan at csheehan@sopei.com or at 902-368-8919.
Board of Directors
The current members of Special Olympics PEI's Board of Directors are:
Past - President
Jamie Arsenault
Favourite Special Olympics Moment: "My favourite Special Olympics event is the awards ceremony. The excitement of the athletes is contagious and the respect they show each other is unparalleled. It is heartwarming to see the excitement that each nominated athlete shows and even more so to see how excited they all are for the winner of the award. It is hard to leave the event without a smile on your face."
Learn more about Jamie: Meet Jamie Arsenault 
President
Craig Watson
Favourite Special Olympics Moment: "Being part of Team PEI Mission Staff at the SOC 2020 National Winter Games in Thunder Bay, as well as being selected as Team Canada Mission Staff for the 2022 World Winter Games."
Learn more about Craig: Meet Craig Watson 
vice president
Robert Horne
Bio Coming Soon
Treasurer
Clifford Lee
Favourite Special Olympics Moment: "I always thought that the excitement that is created at the Pep Rallies prior to Team PEI leaving for National Games was exciting and unique. The individual introductions of the athletes, coaches and volunteers and the excitement created is truly amazing. At the Pep Rallies the athletes display the true meaning of sportsmanship."
Learn more about Clifford: Meet Clifford Lee
secretary
Rebecca Gill
Photo & Bio Coming Soon
Athlete Representative
Ellen MacNearney
Photo & Bio Coming Soon
director at large - GaLC
Heidi Mallett
Favourite Special Olympics Moment: "(Special Olympics) allows me to participate in weekly sports program like golf and 5pin bowling just to name a few. It has been an honour to travel for Provincial and National Games."
Learn more about Heidi: Meet Heidi Mallett
Director at Large
Melanie McKenna (on leave)
bio Coming Soon
director at large
Lynda Hontscharowicz
Photo & Bio Coming Soon
director at large
Jackie Charchuk
Photo & Bio Coming Soon
director at large
Kristin Noonan
Photo & Bio Coming Soon