Cheer on Team Canada at the World Games
Join Team Canada at the World Games
The World Games are flagship events for the Special Olympics movement. They take place every two years and alternate between summer and winter Games. The Games can be the world's largest sporting event of the year. Thousands of athletes, coaches, volunteers and supporters attend to see and cheer the skills and accomplishments of people with an intellectual disability.
2019 World Games 

2019 - Special Olympics World Summer Games (Abu Dhabi, United Arab Emirates)
The World Games feature more than a week of grueling, yet inspiring, competition among thousands of athletes from over 110 countries. Through media coverage of the Games, the stories and achievement of our athletes are seen by millions of people worldwide.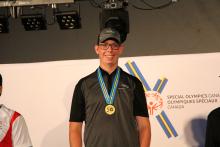 Congratulations Roy Paynter
Team PEI 2018 Swimmer selected to represent Team Canada at the 2019 Special Olympics World Summer Games!
Read the full Press Release announcing Roy Paytner being named to Team Canada. 
History of SOPEI Members Selected to Team Canada 
2019  World Summer Games in Abu Dahbi, uae
2017  World winter Games in Austria
2015 World Summer Games in Los Angeles, USA
Jenna Smith (10-Pin Bowling)
John Paynter (Athletics) 
Charity Sheehan (Mission Staff - Athletics)
2013 World Winter Games in Pyeongchang, south Korea
Alyssa Chapman (Figure Skating)
Ellen MacNearney (Cross Country Skiing)
Charity Sheehan (Mission Staff - Snowshoe)
2011 World Summer Games in Athens, greece
Athletes:
Glendon Arsenault
Chris MacPherson
Greg St. John
Tommy MacGuigan
Cedric Gallant
Marc McKearnery
Jerred Affleck
Mark Ramsay
Travis Perry
Aaron Myers
Brian McNab
Blair Burns
John Anthony Laybolt
Shawn Mitchell
 
Coaches:
Richard Douillette (Head Coach)
Judy Gallant (Assistant Coach)
Lew Champion (Assistant Coach)
2009 World Winter Games in Boise, USA
Michael Morris (Cross Country Skiing)
2005 World Winter Games in Nagano, Japan
Michael Morris (Cross Country Skiing)
Rose MacDonald (Cross Country Skiing)
Charity Sheehan (Mission Staff - Snowshoe)
2003 World Summer Games in Dublin, Ireland
2001 World Winter Games in Anchorage, USA
1999 World Summer Games in North Carolina, USA
1997 World Winter Games in Collingwood, Canada
Marc McKearney (Speed Skating)
1995 World Summer Games in New Haven, USA
Jamie Trowsdale (Swimming)
1993 World Winter Games in Austria
 Marc McKearney (Speed Skating)
1987 World Summer Games in Indiana, USA
Scott Andrews (Speed Skating)