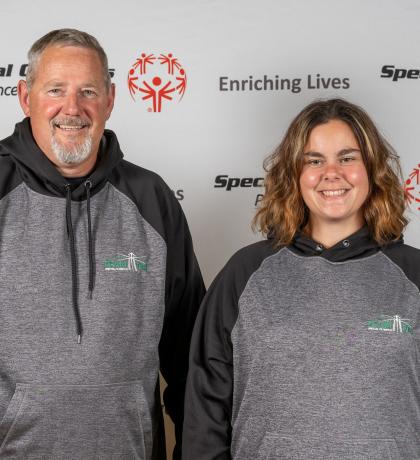 Coming off of a Gold Medal performance at the Special Olympics Canada Winter Games 2016 in Corner Brook, Newfoundland, Special Olympics PEI's two Floor Hockey programs have seen tremendous growth. The excitement of watching the 2016 Warriors take on the best in their division from across the country, and come home with the Gold, is a memory still fresh in the minds of Team PEI 2020's Floor Hockey Team as they train to once again take on the country on the National Stage. 
Team PEI's 2020 Floor Hockey team is a mix of athletes from the Summerside and Charlottetown programs. Prior to attending the 2019 Provincial Winter in New Brunswick Floor Hockey athletes who had previously selected Floor Hockey as their competitive sport participated in a skills testing. These results, combined with intangible scores assigned by their coaches, determined the athletes named to Team PEI 2020. The Floor Hockey team is composed of 16 athletes: Billy Acorn (Brackely), Brian McNab (Charlottetown), Evan Costain (Summerside), Geoffery Bridges (Charlottetown), Jeremy Cheverie (Cornwall), Jeremy Wall (Summerside), Jerred Affleck (York), John Anthony Laybolt (Johnston's River), Keegan Waite (Summerside), Lisa Bernard (Stratford), Micheal MacIsaac (Charlottetown), Nathan Irwin (Summerside), Jennifer Hickox (Charlottetown), Shawn Mitchell (Charlottetown), Tommy MacGuigan (Charlottetown), and Travis Perry (Miscouche), and is supported 3 coaches: CY Holland (Stratford), Peter Howatt (Charlottetown) and Rickey Burns (Charlottetown). 
The Floor Hockey team heading into the the 2020 National Games has 7 new athletes when compared with the 2016 team: Billy, Brian, Jeremy Cheverie, John Anthony, Lisa, Jennifer, and Travis. This however, does not speak to a lack of experience at National Games, as all 7 athletes have previously attended National Games. 
Team PEI Floor Hockey is supported by 3 of Special Olympics PEI's most experienced coaches. Combined CY, Peter and Rickey have over 85 years of experience coaching Floor Hockey, and have attended more then 26 National Games combined!
In February of 2020, Special Olympics PEI will be represented by 38 athletes, supported by 11 coaches and 8 mission staff, at the Special Olympics Canada Winter Games 2020 in Thunderbay, Ontario. Team PEI will compete in sports: 5-Pin Bowling, Cross Country Skiing, Curling, Figure Skating, Floor Hockey, Snowshoeing, and Speed Skating.  Be sure to follow along between now and February as we continue to Meet Team PEI 2020!
Supporters of Special Olympics PEI are invited to follow Team PEI 2020, both in the lead-up to, and during the Special Olympics Canada Winter Games 2020! Our Team PEI 2020 website will be updated with schedules and results during the Games, and our social media channels - Facebook, Twitter, and Instagram, will have photos and up to the minute news and highlights. 
SUPPORT TEAM PEI
If you would like to support Team PEI 2020's Floor Hockey Team as they training to represent PEI at the Special Olympics Canada Winter Games 2020, please consider either Drafting an Athlete or donating to the Team PEI Booster Club.