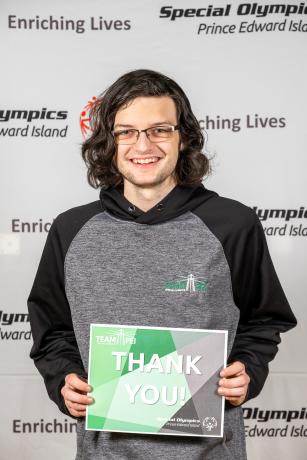 Draft an Athlete is a program that allows supporters of the movement to fund a Special Olympics athlete's journey to National Games.
Join the Team—Draft an Athlete!
The Team PEI Draft an Athlete program allows supporters of the Special Olympics movement to fund a Team PEI 2020 athlete's journey to National Games. Sponsorship through the Draft an Athlete program showcases your support for Special Olympics PEI athletes from your community, and will help offset the cost of these Games. Businesses and employees may pledge to Draft a Team PEI athlete by holding their own internal fundraiser or by making a corporate donation.
Meet Team PEI 2020 – View the Full Team Roster!  
Support Team PEI 2020
To learn more about supporting Team PEI 2020 please call our office (902-368-8919) or email us sarah@sopei.com.  To confirm your support for Team PEI 2020 please fill out our Draft an Athlete Commitment Form. You can also Draft an Athlete online - Donate Online.
Athlete Benefits
When given an opportunity to experience the thrill of competition at a Special Olympics National event, words cannot describe the positive impact this has on an athlete and their family. Through competition, these athletes gain self-esteem, confidence and strength, which benefits all aspects of their lives.
By supporting the Draft an Athlete program, you are giving an athlete the full National Games experience, including staying in an athlete's village while attending Games, the opportunity to participate in opening and closing ceremonies, high caliber athletic venues with qualified officials, access to social and Healthy Athletes events, and memories that will last a lifetime.
Donor Benefits
As a thank you for your donation or pledge of $850, you will receive the following recognition:
Website: Recognition on the Special Olympics PEI website on the Team PEI page.
Send-off: Invitation to and an introduction at the Team PEI Send-off Pep Rally.
Competition Update: Your organization will receive postcards from your sponsored athlete and updates from Team PEI.
Tax Receipt: You will receive a charitable tax receipt for the full amount of your donation.
Athlete Opportunity: The opportunity to partner with a Special Olympics athlete for a company function. Increase your community profile by hosting a 'special event' in partnership with Special Olympics PEI.
Draft a Team PEI Athlete Today!
If you would like to show your support for Team PEI 2020 by Drafting an Athlete please call the Special Olympics PEI office at 902-368-8919 or email sarah@sopei.com.
If you are unable to Draft an Athlete, but still wish to support Team PEI, please consider supporting the Team PEI Booster Club.
Thank you to our 2020 draft an athlete sponsors!