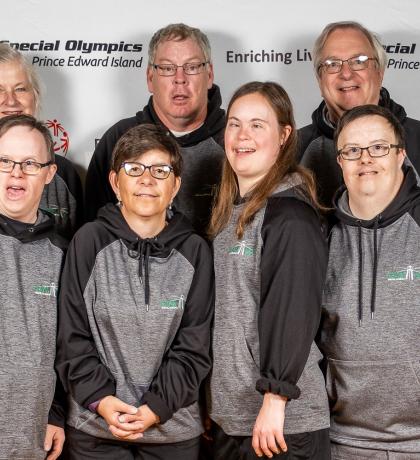 In February of 2020, Special Olympics PEI will be represented by 38 athletes, supported by 11 coaches and 8 mission staff, at the Special Olympics Canada Winter Games 2020 in Thunderbay, Ontario. Team PEI will compete in sports: 5-Pin Bowling, Cross Country Skiing, Curling, Figure Skating, Floor Hockey, Snowshoeing, and Speed Skating.
In the lead-up to the Games we will be profiling each Sport, and highlighting some of the athletes and coaches who will be representing PEI on the National Stage. Be sure to follow along as we Meet Team PEI 2020!
Team PEI Curling will be represented by 5 athletes: Christopher MacPherson (Charlottetown), Monique Gauthier (Charlottetown), Rachael Loggie (Charlottetown), Shane MacPhee (Charlottetown) and Shelby McInnis (Souris) and 2 coaches: Gie Rogers (Charlottetown) and Nancy MacPhee (Charlottetown).
This curling team is a balanced mix of experience at National Games, and first-timers on the National stage. Christopher, Monique and Shane have been curling together for many years, and were all members of Team PEI at the Special Olympics Canada Winter Games in 2016 in Cornerbrook, Newfoundland. Shelby, a seasoned community curler in his hometown of Souris, comes into his first National Games for Curling with a lot of experience, including experience at the position of Skip. Rounding out the team is Rachael, who despite this being her first National Games for Curling, was a member of the Training Squad in 2016, gaining lots of valuable insight into the sport.
Supporting Team PEI Curling in Thunderbay are Gie and Nancy, two first time National Games coaches. Gie and Nancy have been coaching with the Charlottetown Curling program for 5 years, first as Program Volunteers, then as Head Coaches when the need arose. In preparation for these Games, Team PEI Curling will be on the ice twice a week, participating in Performance Programs in their communities, and working with a mental performance trainer.
Be sure to follow Team PEI 2020, both in the lead-up to, and during the Special Olympics Canada Winter Games 2020! Our Team PEI 2020 website will be updated with schedules and results during the Games, and our social media channels - Facebook, Twitter, and Instagram, will have photos and up to the minute news and highlights.
SUPPORT TEAM PEI
If you would like to support Team PEI 2020's Curling Team as they training to represent PEI at the Special Olympics Canada Winter Games 2020, please consider either Drafting an Athlete or donating to the Team PEI Booster Club.