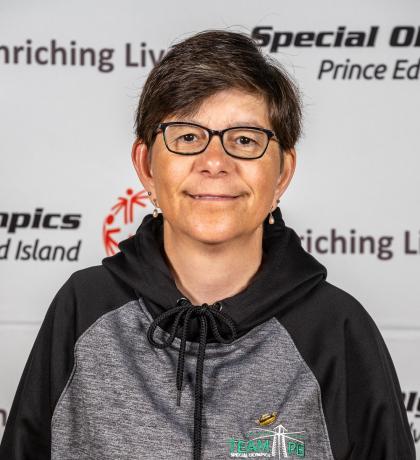 Monique Gauthier, Charlottetown, is no stranger to the curling rink! Monique started curling with the Charlottetown Curling program because it was a sport she was able to do, then stayed with the sport because she found it fun. She has found quite a bit of success along the way, having competed in two previous Special Olympics Canada Winter Games, first in 2012 in St. Albert, then in 2016 in Cornerbrook. With the 2020 Games on the horizon, Monique is looking ahead to representing PEI once again on the national stage.
Monique's fondest curling memories are from the 2012 Games in St. Albert, Alberta. Team PEI had a fantastic week of competition, winning the Gold medal in their division. Following this success, Team PEI Curling was named Special Olympics Canada's Team of the Year in 2012. Monique, along with her teammates, traveled to Toronto where they were honoured at the National Awards. 
At the 2016 Games in Cornerbrook Team PEI's hard work and preparations saw the team have the divisioning round of their curling careers. A fantastic showing during divisioning, combined with their training in the lead-up to Games, saw Team PEI move up a division. Round robin play saw some tough draws for Team PEI, who placed 4th at the close of competition. 
Looking ahead to the Special Olympics Canada Winter Games 2020 in Thunderbay, Monique is looking forward to trying her best, and winning a medal, but if she cannot win, she will be brave in the attempt. 
Support Team PEI 2020!
If you would like to support Team PEI athletes like Monique please consider Drafting an Athlete.