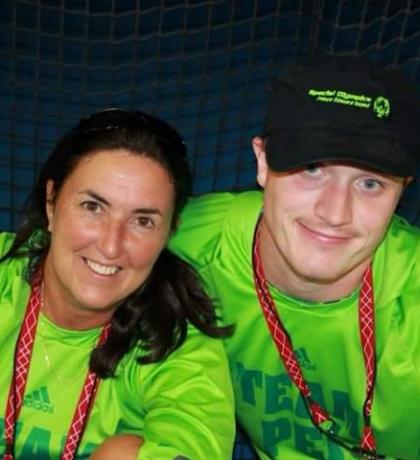 The connection between athlete and coach is an essential component of sport, and that could not be more true than it is for athlete-coach duo Jeremy Wall, Summerside, and Jodi Harper, Harrington! Although Wall says he has met lots of great volunteers over the years with Special Olympics, Jodi sticks out to him.
Jeremy joined Special Olympics back in 2007, following a suggestion from a family friend and Special Olympics PEI Floor Hockey coach, Barry Murray, Kensington. At this time Jeremy was not working, and was going through a rough time. So, when family-friend Barry suggested that Jeremy should come out to the floor hockey program, he figured it was as good of a time as any to give it a try!
Wall has not looked back since that first night at floor hockey in 2007, but it was just the beginning of Jeremy's journey with Special Olympics. Over the years Jeremy has participated in a variety of sports, he couldn't even count how many trips he has been on, not to mention he says Special Olympics is just part of who he is now.
That first summer after joining Special Olympics, Wall decided to join the athletics program as well! A number of years down the road, when Wall made Team PEI 2014 as a member of the athletics team, he was with another coach who, to this day, plays a major role in his life!
Law Enforcement Torch Run committee member, volunteer and athletics coach, Jodi Harper was the coach that Jeremy had for his journey to the 2014 National Summer Games, and is "Momma Bear 2.0" according to Wall! Jeremy fondly remembers his first competition with coach Harper back in 2013, and says their friendship has only grow since.
Leading up to the 2014 National Summer Games, Wall recalls the patience of Coach Jodi as he battled through a hip injury, just months before Games. "Jodi is so patient, and that meant everything to me. She showed that she believed in me and that gave me the confidence I needed to get through physiotherapy and prepare for National Games," Jeremy says.
In 2018, Wall and Harper attended their second National Games together, both as members of the athletics team, in Antigonish, Nova Scotia. "Jodi helped me get through the week," recalls Wall, who despite performing great at the track battled a tough week of stiff competition at National Games, "Without Jodi I don't know what I would have done."
Jeremy says, "I just know that she is always there for me, I can reach out to her any time, during the good and the bad!" Wall says that his connection with Jodi goes far beyond their shared love for athletics and Special Olympics, he considers Harper a close friend.
"Aside from her patience, Jodi cares so much about her athletes, she is always willing to help and goes the extra mile to make her athletes happy," Jeremy said in response to what makes Jodi Harper so special and such an important part of his life.
When asked if he had a message for anyone who might be interested in volunteering with Special Olympics Jeremy said, "It's a phenomenal experience and the opportunity of a lifetime!"
If you or someone you know might be interested in volunteering with Special Olympics PEI please complete our Volunteer Application form found HERE, and submit it to the office. If you have any questions about volunteering or Special Olympics PEI in general please contact the office by email (sopei@sopei.com) or phone (902-368-8919).