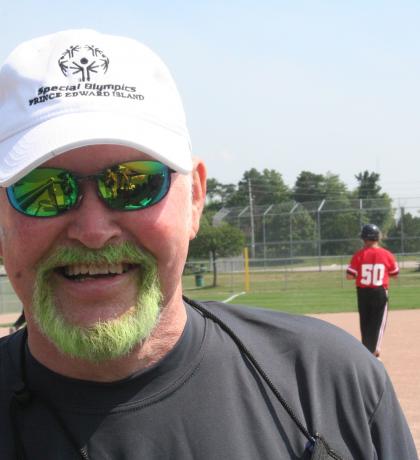 Lew Champion, Summerside, has been a volunteer with Special Olympics PEI for 15 years. During this time Lew has volunteered with the sports of Softball, 5-Pin Bowling and Bocce.
Lew first became involved with Special Olympics PEI as a member of the volunteer Board of Directors. While sitting on the Board Lew became aware that Summerside would not have a softball program the following summer as the program did not have a coach. Not wanting to see Summerside without a softball program Lew volunteered to take on the coaching role.
As an Assistant Coach Lew traveled with Team PEI to the 2010 Special Olympics National Summer Games in London, Ontario. Following an outstanding week on the ball diamonds, Team PEI was selected to represent Canada at the 2011 World Summer Games in Athens, Greece as Team Canada East. Lew spent the next year helping to prepare the softball team to compete on the world stage. While in Greece, Lew was an instrumental part of the coaching staff who helped to ensure our PEI athletes had the best experience possible. All of the team's hard work paid off as Team Canada East came home with a bronze medal.
When asked why he volunteers with Special Olympics PEI, Lew said he enjoys spending time with the athletes, individuals he calls a special group of people. He enjoys the being a part of the fellowship within the Special Olympics movement. Upon reflection, Lew wishes that he had started volunteering 30 years earlier.